Excess calcium in the blood in cats can be life-threatening. For example, the condition can indicate a serious underlying condition, such as kidney failure.
Medically, the condition happens when a cat shows a calcium level of more than 10.5 mg/dL.
Technically, the condition is also known as hypercalcemia in cats.
If you see the signs of the condition in your cat, then get to a veterinarian for a proper diagnosis and treatment.
Here's what you should know about the symptoms, causes, and treatments for the condition.
Symptoms of Excess Calcium in the Blood in Cats
The condition produces a fairly wide range of symptoms. For example, some of the most common symptoms include:
Peeing more than usual
Drinking more water than usual
Vomiting
Anorexia
Hypertension
Depression
Bladder stones
Constipation
Twitching (muscles)
Swollen lymph nodes
Acting lethargic
Causes of Excess Calcium in the Blood in Cats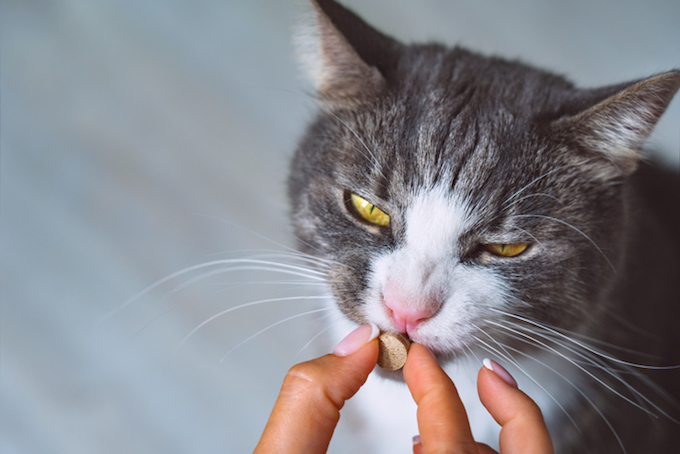 The cause of the condition can be one of a number of things. For instance, some of the common causes include:
Poor diet
Renal failure
Abnormal parathyroid gland
Kidney failure
Fungal infections
Toxic substances (including aluminum)
Vitamin D poisoning
Bone diseases
Treatments for Excess Calcium in the Blood in Cats
Firstly, your vet will ask about your cat's symptoms. Secondly, your vet will ask about your cat's full medical history and diet.
Thirdly, a full physical examination will be carried out. Blood and urine tests will be taken. Additionally, imaging processes like ultrasounds can be used to examine any affects organs.
Generally, treatment usually begins with fluid therapy. This is carried out in hospital.
Ultimately, the cause of the condition will be targeted. Usually, this can involve appropriate medication. As always, if your vet prescribes your cat any medicine, make sure to stick to the correct dose and frequency instructions. Also, complete the full course of medicine.
While recovering at home it is important to provide your cat with a quiet and calm environment. Also, make sure you keep up regular vet visits to monitor your cat's calcium levels.
Have you ever cared for a cat who suffered from this condition? How did your vet help your kitty recover? Let us know in the comments section below.