Let's get to know Fancy and her friends. They're four special needs kitties who reside out in Australia and they're beginning to become faces on the feline social media scene as The Sweetest Meow cats.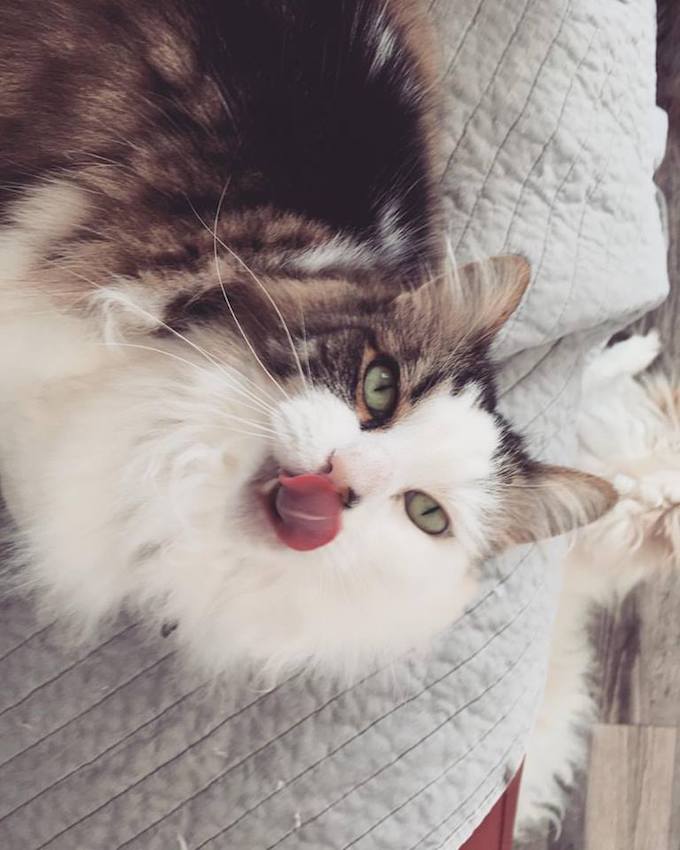 According to Katie, the cats' human, she got involved in the special needs scene after a Facebook rescue group alerted her to the case of a cat with a deformity in his front legs that required emergency care. Without Katie stepping up to offer to take him in, the cat would have been put to sleep. "A couple of days later, I knew I could never let him go," she says. "That's how I came to have Bowie."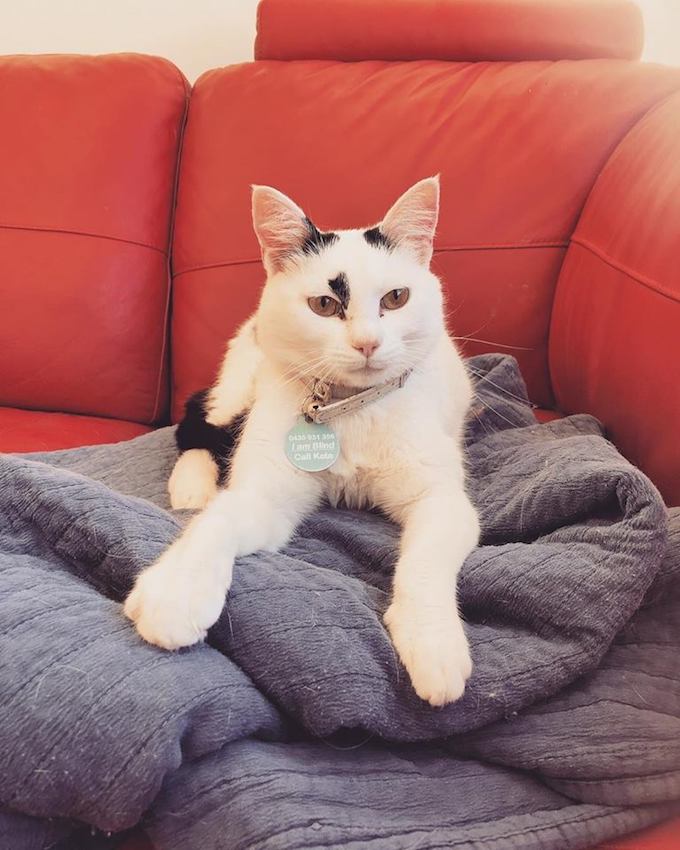 Katie's clowder has now been expanded to also take in The Jinx, who was slated to be euthanized just for being blind. "We suspected she was born that way," says Katie. "I named her The Jinx because she could fool anybody most of the time into thinking she can see." She adds that this clever kitty always manages to navigate the environment around her, even after moving house.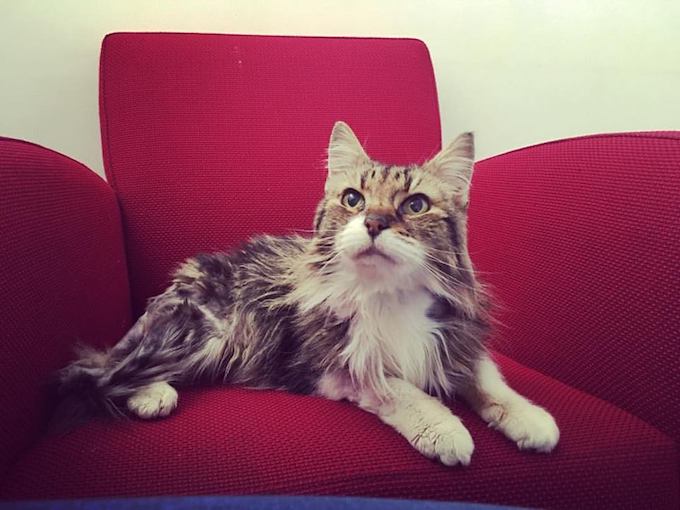 Joining Bowie and The Jinx are Birdie, a "sweet senior girl" who was found on the street with a large, cancerous tumor on her back leg. After an amputation she was given only a week to live — but after taking her home and spoiling her with roast chicken and copious cuddles, she's beating the odds and thriving under Katie's care.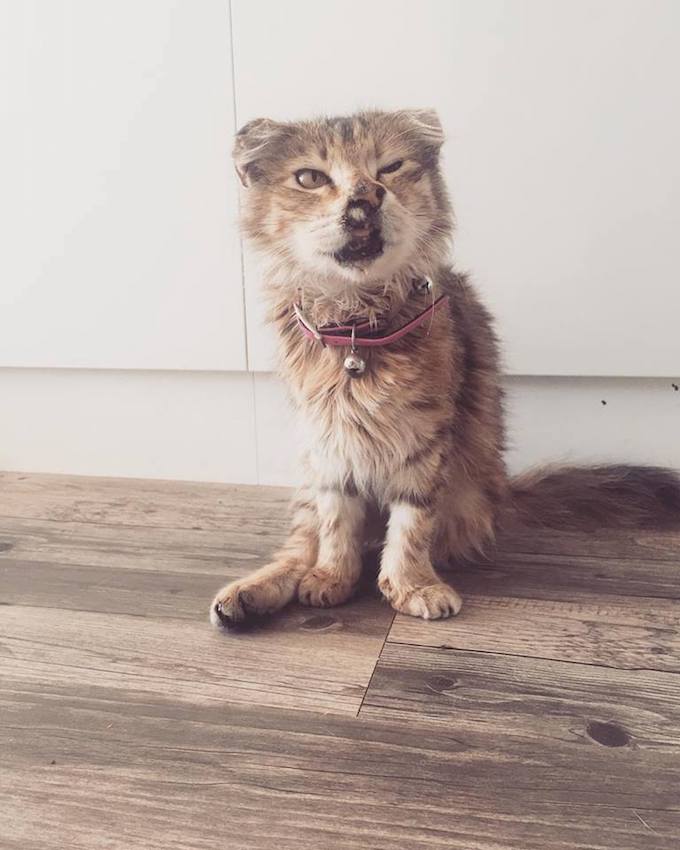 Finally, Fancy makes up this quartet of super kitties. She was discovered with injuries that were likely inflicted by a human: "Most of her teeth are broken and her jaw is out of alignment, her nose is wonky and her ears are full of scar tissue."
Fancy also suffered from a broken tail and legs, but Katie reports, "Most of the time you wouldn't know she has any issues, she certainly doesn't let it hold her back, and she is very smart so I've been able to teach her how to get up onto the bed and lounge using little stairs."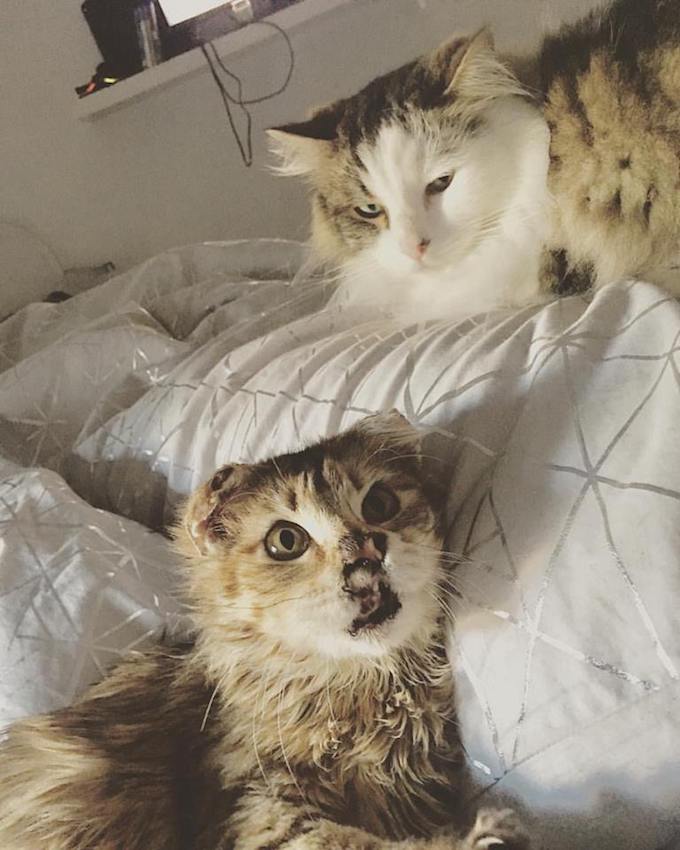 Living together in their forever home, the four cats are said enjoy each other's company — and thanks to their Facebook adventures they're helping to spread the word about special needs cats to the wider world.
"I don't feel that special needs cats are any different to normal cats," says Katie. "I'd say if you're considering adopting one, just make sure your family and home match the cat and their needs — just like any other cat you might be considering adopting. Rescues know what each individual cat's needs are and as long as you can provide them, you won't regret it."