Rabies is likely the most widely-known animal disease in the world. But thankfully, on World Rabies Day each year, we are reminded that it is also one of the most preventable.
This annual day of awareness, launched in 2007, helps educate people about the dangers of rabies in North America and around the world. Mark this year's World Rabies Day, September 28th, by making sure your pets are up-to-date on their rabies vaccinations, and encourage friends and family to do the same for their pets.
Help us spread the word on World Rabies Day to promote prevention and raise awareness around the globe.
The Effects Of Rabies Around The World
The effects of rabies can be tragic. In the United States and much of the Western world, rabies is thankfully quite rare; an average of only one to two Americans die annually from exposure to disease.
However, rabies kills tens of thousands of people worldwide each year, according to the American Veterinary Medical Association (AVMA), making education and pet vaccinations against the disease key to eliminating rabies infections in afflicted regions.
On a global scale, many rabies cases in humans that end in death are transmitted through dog bites. More than 100 different countries report that many of the thousands of people who die from rabies infections are children bitten by infected dogs. However, cats and other animals can spread the disease, as well.
What Can Humans Do To Stop The Spread Of Rabies?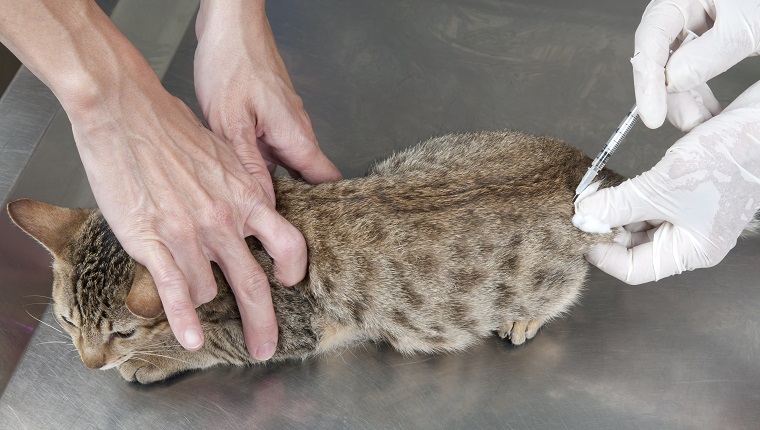 A statement released in tandem by the Food and Agriculture Organization of the United Nations (FAO), the World Organisation for Animal Health (OIE), and the World Health Organization (WHO) shows estimates that, by vaccinating at least 70 percent of a country's dog population, the cycle of transmission from dogs to humans can be broken, saving the lives of humans and dogs alike.
Rabies-infected livestock can also wipe out full herds, leading to food insecurity in already impoverished regions. This makes rabies education and vaccination programs an important public health issue in places like Africa, Asia, and South America, where rabies deaths in humans are still far too common.
Here in the United States, vets use World Rabies Day to educate pet parents about rabies symptoms and the importance of keeping one's pets current on vaccinations against the deadly disease.
What Are The Symptoms Of Rabies In Cats?
In the early stage of a rabies infection, cats may start to show odd central nervous system abnormalities. These may last from one to three days before a cat progresses to either the paralytic stage, the furious stage, or a combination of those two stages.
In the paralytic stage of rabies infection, cats may seem uncoordinated and weak, and paralysis may follow. In the furious stage, cats display changes in temperament and behavior. They may show aggression and attack.
Cats may then show symptoms like further behavior changes, an aversion to water known as hydrophobia, excessive salivation or frothing at the mouth, fever, seizures, and more. Cats may stop eating and drinking, and their mouths may droop open. They may suffer dehydration or total paralysis.
Sadly, there is no treatment or cure for rabies.
Vaccinations & Prevention For Pets
All cats, just like dogs, should receive their first rabies vaccination from a licensed veterinarian when they are around four months of age. Cat parents should always make sure their feline friends get inoculations for full protection against this horrible but overwhelmingly preventable disease.
Some cat parents neglect to take their cats to the vet for their rabies vaccines. But even indoor cats can get loose or suffer exposure to the disease by coming into contact with infected wildlife.
Dogs should receive their first rabies vaccination at three to four months of age as recommended by their vet. Then they should continue to receive booster vaccinations throughout the rest of their lives.
But rabies infection doesn't just affect dogs, cats, and humans. Wild animals, most commonly bats and raccoons, can carry the disease, too, and can spread it to humans and pets.
People should limit their interactions with wildlife and report suspected rabies cases to local animal control as soon as possible.
For further information about the rabies virus, global rabies eradication campaigns, or to find out how you can participate in World Rabies Day, visit the Global Alliance for Rabies Control website today.
Will you help spread the word on World Rabies Day? Have you also vaccinated your pets against rabies? Let us know in the comments below!