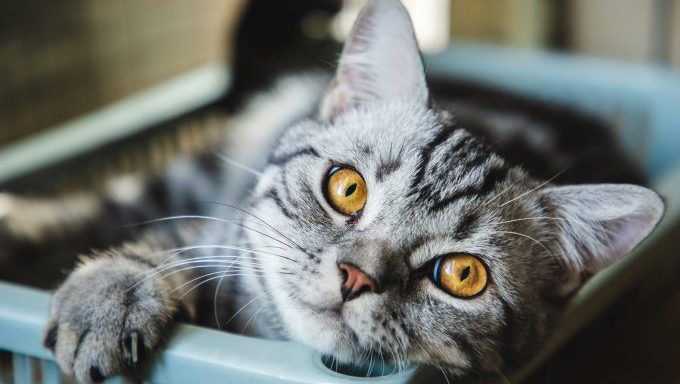 Choosing a name for your furry friend is one of the most important decisions you'll make during your feline-human relationship. After all, a cat's name follows them throughout their whole life. While some cat owners choose names that have deep meaning (like those inspired by the Bible) and others look to pop culture (calling all Star Wars fans!), there are certain names whose popularity holds strong and steady across all demographics.
In honor of National Pet Month, TrustedHousesitters dove into the most popular pet names, analyzing over 50,000 monikers registered on its platform. Then, the site sorted those names by popularity, region, and pet type. What it discovered is the most creative and unique pet names in the United States.
"Looking at the thousands of pet names registered at the time of data analysis in 2023, we can reveal the pet names owners are loving across the US, and cultural trends across each state," the company said in a statement. Without further ado, let's get into the data behind popular cat names!
The top cat names in the U.S.
Nationally, the five most popular boy cat names are:
Charlie
Leo
Max
Milo
Jack
The five most popular girl cat names are:
Luna
Lucy
Bella
Sophie
Stella
Roughly 13% of cats are named after a food or drink item. The five most popular food-inspired pet names in the nation are:
Pepper
Ginger
Honey
Cookie
Peanut
The five most popular character names for cats are:
Tigger
Simba
Zelda
Chester
Thor
The most popular cat name in every state
The TrustedHousesitters study found that the culture of where cat owners live plays a major role in naming their feline friends. When looking at cat names at the state and city level, these regionally inspired names dominate the most popular lists. Here's a map showing the top cat names for each state.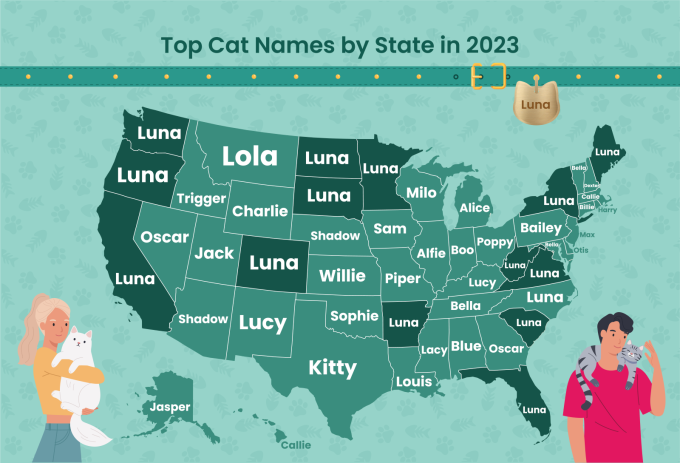 Now we're going to break down some of the more unusual and exciting findings of a handful of geographic areas.
Texas
Pet names in Texas greatly reflect the ranch and cowboy culture and Spanish influence of the state. The top 100 pet names of the state include:
Austin
Dallas
Rooster
Dolly
June Bug
Paco
Pinto
Chief
Banjo
Brisket
The largest city in Texas, Houston, includes 50 top pet names influenced by the city's NASA Space Center, such as Apollo, Astro, Astra, Star, and Cozmo.
Oregon (Portland)
As a well-established literary town, Portland residents tend to gather inspiration from literary classics when naming their pets. The top 100 pet names in Portland include notable literary character names like:
Romeo and Juliet
Jay, Daisy, and Gatsby
Atticus
Huck and Finn
Harry, Hermione, Dobby
Pip and Bentley
Distinguished author names on the list include Oscar, Zora, Edith, Ernest, Franz, and Edgar.
California
As the entertainment capital of the world, Los Angeles pet parents certainly carry this reputation when naming their pets. These character names are among the city's top 100 pet names:
Gatsby
Mickey
Simba
Minnie
Elsa
Winn Dixie
Zelda
Yoshi and Yoda
Musician names like Elvis and Biggie are also popular.
California also has the most cats named after food, with Pickles, Bean, Peanut, Taco, Sushi, and Pumpkin being popular choices in the top 100 names list. There are even multiple cats named Pop-Tart, Ramen, and Parmesan in the state.
Louisiana
The Cajun and Creole French culture and language in Louisiana play a major role when it comes to the most popular pet names of the state. The historic culture of New Orleans inspires many of the top cat names in the state, as Voodoo, Bijou, and Roux found their way into the top 30 names.
Alaska
As one of the best places in the country for stargazing, it comes as no surprise to see astrology-inspired names dominating 2023 pet name trends in Alaska. Cosmo, Star, Eclipse, and Jupiter are included in the top 50 pet names.
New York City
The study found that pet name trends vary in New York City, with Manhattan pet names revolving around movie characters. Meanwhile, pet names in Brooklyn are dominated by food and drinks. Top pet names in Queens reflect the most culturally and diverse borough, while pet parents in The Bronx and Staten Island opt to name their pets traditionally human names.
Washington (Seattle)
Seattle, the coffee capital which hosts the very first Starbucks location, has a wide variety of coffee-related pet names. Bean, Mocha, Latte, and Kopi — the Indonesian word for coffee — are included in Seattle's top 50 pet names. In fact, 80% of pets in Washington named Bean, Beanie, or Beans live in Seattle!
Finally, one last fun fact about cat names: the most popular city a cat is named after is Salem!
More cat name inspiration
Still looking for the perfect name for your feline friend? We have plenty more ideas for you. Check out our cat names by breed, by color, and by theme!
TrustedHousesitters assisted in the creation of this article.