A homeless kitten that spent almost three months in a tree in San Antonio, Texas, was finally removed from her wood-limbed "residence" last week.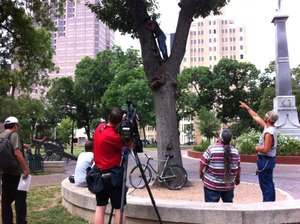 The kitten, named Isis, had been an attraction for Travis Park visitors since it was born. Isis's mother carried the feline and her brother into the tree and kept them in a hollowed-out branch.
Amy Venticinque, a rescue volunteer who had experience catching stray and feral cats, arrived on the scene and was able to trap the mother and son; Isis, though, evaded capture.
"I came right down with my traps and a ladder thinking it would be an easy job," Venticinque says. "I trapped the brother right away. Within five minutes, I had him in the trap."
Nazario Hernandez, who fed the cats while they were in the tree, also attempted to rescue the kitten. Using a ladder, he managed to grab Isis; his success was short lived, however, as he fell to the ground and fractured his leg. He did get the cat out of the tree in the process, as she ran into some nearby bushes.
For two weeks, Venticinque again tried to capture Isis using traps, but the feline never went for the bait. Finally, with help from a park ranger, the woman was finally able to get close enough to grab the kitten by the scruff of the neck.
Isis was taken to a veterinarian, where she was spayed and vaccinated. Venticinque is Isis's foster parent until the feline can find a permanent home.
The cat is available for adoption through Spay-Neuter-Inject Project San Antonio (SNIPSA).