On June 1, CatTime.com reported on Sponge Bob, a 9-year-old cat that was left at a New York shelter after his owner entered a nursing home.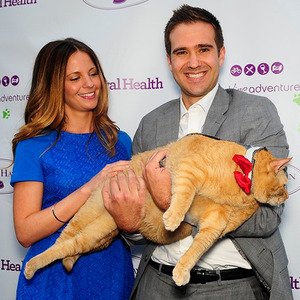 The cat weighed 33 pounds; the average cat weighs 7 to 12 pounds. After he entered the shelter, Sponge Bob was immediately put on a diet and exercise program.
According to the Animal Haven website, Sponge Bob has been adopted. Newlyweds Courtney and Matthew Farrell of New York's Upper East Side are now the owners of Sponge Bob.
"We're gonna whip him into shape," Matthew says. "He's already on a no carb diet: 'Catkins.'" The couple has set the goal for Sponge Bob to lose one pound each month until he reaches a healthy body weight.
Steve Schonberg of the shelter says Sponge Bob's new owners are "committed to providing him with a healthier and more active lifestyle than in his previous home."
Sponge Bob also became something of a celebrity at the 2nd Annual Performance for the Animals, a fund-raising event in New York. Edie Falco, the Emmy Award-winning star of Nurse Jackie, took a few moments to hold the feline; the segment was featured on the nationally syndicated Inside Edition program.
Sponge Bob now has his own blog, so you can follow him as he lives happily ever after.