What news stories on CatTime.com got the most traffic this year? Here they are, in ascending order, for 2013:
10. Actor creates largest animal sanctuary in America: While driving through California's Angeles National Forest in 1979, actor and producer Leo Grillo saved an abandoned dog from starvation and started D.E.L.T.A. Rescue. Today, the Glendale hills 115-acre sanctuary is the largest in America, with more than 1,500 cats, dogs, and horses living on its grounds. None of the animals are transferred from shelters — they're all abandoned and found by Grillo.

9. Cat beats down crocodile: A cat wandering into a zoo's crocodile enclosure is bad enough, but this feline perched at the water's edge and went nose-to-nose with one of the fearsome captive reptiles. Not only did the cat refuse to back down, but she smacked the croc's snout when he surfaced, causing him to retreat into the murky water. A vacationing couple from Middlesex took the video when they were at a zoo in Jaipur, India.

8. Lucky's accused assailant charged with animal cruelty: One of 2012's top 10 cat news storiesconcerned Lucky, a Kentucky cat whose font legs were broken by a human wielding a golf club. Our update on the case gathered a lot of attention, when the assailant, Gary Foster, was charged with animal cruelty (he eventually took a plea deal); screw him. As for Lucky, he underwent surgery, his damaged limbs healed, and he lives happily ever after.

7. Wisconsin shelter with famed 26-toed cat closes doors: In 2012, Daniel, a cat with 26 toes (most have 18) was taken off death row at an overcrowded shelter by the Milwaukee Animal Rescue Center. The feline was a figurehead for a donation drive that urged patrons to give $26 — one dollar for each digit — to save the MARC. Unfortunately, they couldn't raise enough money to keep their doors open long-term. Daniel was adopted by the Center's owner.

6. Cat born without leg bones gets around: Harvey was born with radial agenesis, a rare disorder that left him with underdeveloped radius and ulna bones. He has the appearance of a normal, active feline, although he — in effect — walks on his elbows. Harvey's adoptive parent raised the necessary funds (more than $5,000) for corrective surgery, which will implant metal pins in the feline's front legs to replace his malformed bones.

5. LOL cat art exhibit on display in London: With half the proceeds going to the Battersea Dogs & Cats Home, patrons of the LOLCat Teh Exhibishun (it's spelled that way) were treated to an exhibit of work all based on the LOLcat Internet meme. The idea for such an event started on Twitter, and it ended with of almost 50 photographers, typographers, poets, and other creative types participating with submissions. It was held at The Framers Gallery from mid-January to late February of 2013.

4. Mama cat nurses Pit Bull pup: A Pit Bull puppy, who was rejected by his mother, was dropped at the Cleveland Animal Protection League. Unable to receive nourishment, little Noland's future looked bleak, but shelter personnel took a chance and put the Pittie pup with a new feline mother Lurlene and her four kittens. Not only did the cat nurse the young canine and take him off death's door, she took him as one of her own. There's a lesson to learn here.

3. Deucy, two faced "Janus cat" in Oregon, dies: Some cats are born with diprosopus, a very rare genetic disorder where parts of the head are duplicated. Although one such "Janus cat" lived 12 years, these felines are usually plagued with health problems and short lifespans. Deucy was no exception: Rejected by her mother, the kitten's owner tried syringe feeding the four-eyed, two-mouthed feline, but the animal died two days after she was born.

2. Grumpy Cat's Friskies commercial: The feline subject of thousands of funny memes and pictures finally made the leap from viral sensation to full-blown product promoter (sellout). Friskies signed the scowling Snowshoe as spokescat for an undisclosed amount, but the partnership yielded mostly unfunny television commercials. Is it overexposure, or have the Grumpy one's 15 minutes of fame run their course?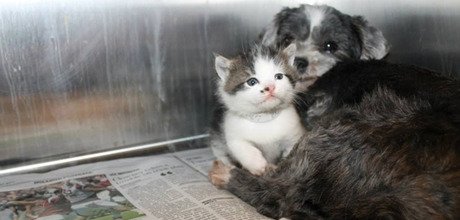 1. Dog rescues, then adopts orphaned kitten: A South Carolina animal control officer discovered a frantically barking Shih Tzu protecting a kitten, who was trapped at the bottom of a ravine. Not only did the pooch serve as the feline's protector, she later nursed the kitten, who was too young to digest solid food. The cat and dog eventually found the same forever home, where they are respectively known as Kate and Goldie.
Miss what happened last year? Take a look at CatTime's top 10 cat news stories in 2012.
What about dogs? Take a look at DogTime's top 10 dog news stories in 2013.