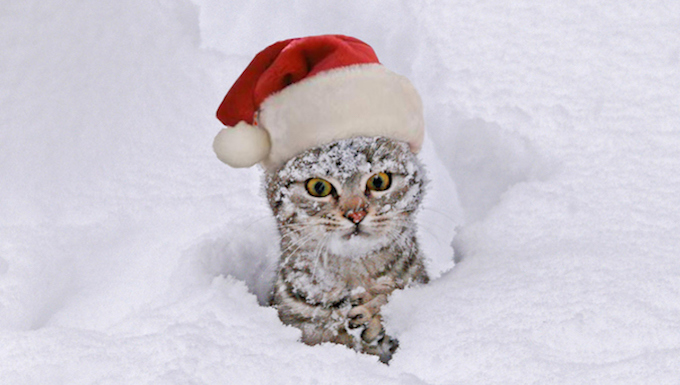 We all know the usual Christmas myths and legends, like Santa Claus climbing down chimneys to deliver presents to children across the world. But over in Iceland, there's a much weirder, cat-themed Christmas tale that you might not have heard about.
It's called Jólakötturinn — or, more colloquially, Iceland's Yule Cat.
Let's dig into this weird Christmas cat myth and find out what it's all about!
The Legend Of The Yule Cat
 

View this post on Instagram

 
According to folklore, the ginormous cat in question lives with 13 mischievous, festive trolls.
Apparently, the Yule Cat has such a voracious appetite that, during the holiday season, he hangs out in the snow-filled countryside and attempts to stalk humans to gobble down for a Christmas day feast.
How can you avoid ending up on the Yule Cat's Christmas platter?
Easy! Make sure you receive a new item of clothing before December 24th and you'll escape the Yule Cat's chompers for a year.
 

View this post on Instagram

 
Digging into the history of the Icelandic Yule Cat, it turns out that well-behaved children who completed all their chores before Christmas were traditionally rewarded with new clothes.
So it's the lazy kids who didn't bother to finish their chores that end up becoming part of the Yule Cat's meal.
The Yule Cat In Modern Times
 

View this post on Instagram

 
The legend of the Yule Cat has started to crop up more and more in pop culture.
You can check out a bunch of pictures of giant Yule Cats made out of Christmas lights on Instagram, along with lots of fan art depicting the holiday feline.
 

View this post on Instagram

 
There's also an animated short that tells the story of the Yule Cat that you can watch on YouTube.
The feature, which you can see below, was created by Justin East and includes a soundtrack by Danny Elfman, who's also worked heavily with Tim Burton.
Come to think of it, a Yule Cat cameo in Burton's The Nightmare Before Christmas would make perfect sense, as long as you watched it while wearing a new pair of socks.
Have you come across any other strange, cat-related holiday myths? What do you think of Iceland's odd Yule Cat legend? Let us know in the comments below!