Meet Gene Hamilton. He's a navy veteran and pet portrait artist who uses watercolors and other mediums to create beautiful works of art. His portraits often memorialize furry family members, and it's not uncommon for pet lovers to be moved to tears after seeing the way Gene lovingly portrays their best friends in his paintings.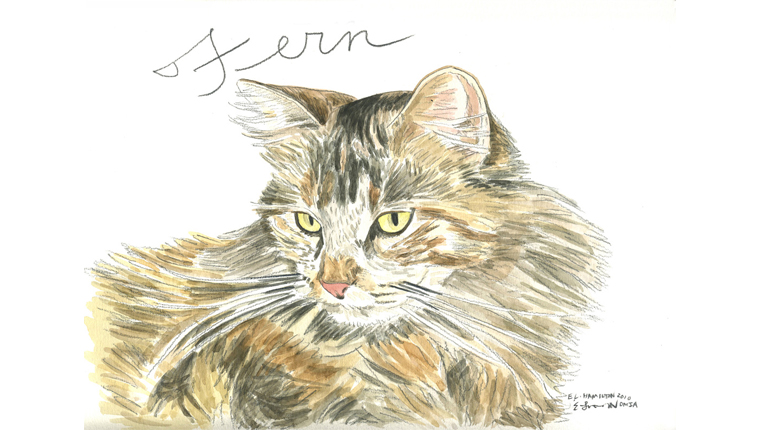 Gene's art can even help those who have lost pets as they go through the grieving process. They feel like they have something that will help them remember and pay tribute to their beloved animals.
I was excited to interview Gene about his transition from navy life into the world of art, his process for creating loving pet portraits, and what tips he has for aspiring artists and young people who want to create their own works.
From Navy Life To Pet Art
Gene is a friend of mine and a first generation Artist. His wife, Carlie, is an incredibly talented second generation artist and illustrator for a gardening magazine. Together they have two amazing, artistic kids.
Both kids are grown and moved out, but you can see evidence of all the talent in this one family throughout the house. Gene's life is surrounded by art, and I wanted to ask him where it all began.
JULIA: Where did you study art?
GENE: First I went to the Kansas City Art Institute. Then I went to Drake University after spending four years and three months in the Navy. My major was art education and sculpture.
JULIA: Were you drafted or did you enlist?
GENE: After briefly attending the Art Institute and Drake and facing the possibility of getting drafted, I enlisted in the the US Navy at the suggestion of my stepfather. He was a WWII Vet. He told me I would have a better chance of getting a dry bed if I joined the Navy.
JULIA: I think I would do the same thing.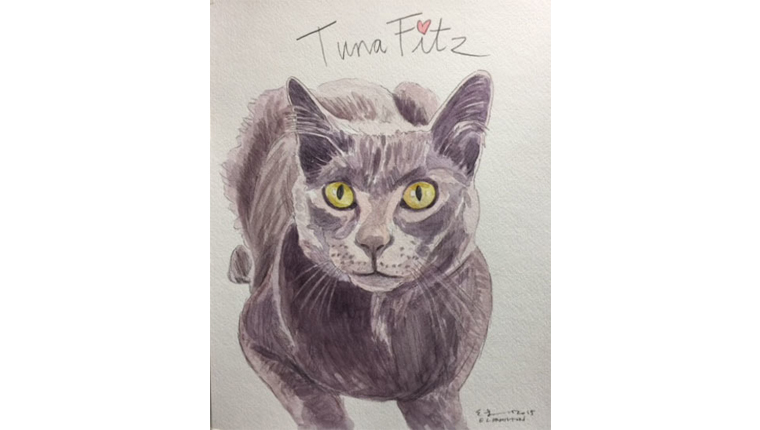 GENE: After getting out of the Navy, I used the GI Bill to finance the completion of my college degree.
JULIA: Sounds like enlisting was a double win. You mentioned majoring in sculpture. How did those classes go?
GENE: Well, when I went back to Drake, a certain professor got me excited about making whimsical or crazy sculptures, and that led to the creation of my sculptural series called Hamilton Trout. The first Hamilton Trout featured black tar coming out of their mouths and dripping down to represent water pollution. This was the early 70s and there was an indifference toward that message, so I went with bright colors without the tar.
JULIA: You are no longer doing Sculpture as much as drawing and painting.
GENE: Drawing has always been something I love the most because I can see an immediate result. For many years, I did silk screen prints. That is just the opposite because you have to print one color at a time, and it seems to take forever to see the final result.
Creating Art That Moves Pet Owners To Tears
Pet lovers often react emotionally to seeing the way Gene portrays their furry family members in his art. I asked Gene about how he got started with pet portraits, which types of pets he works with, and some of the challenges of drawing and painting beloved animals.
JULIA: How long have you been drawing people's pets?
GENE: I'm guessing 10 or 15 years.
JULIA: You were doing caricatures and landscapes before. What got you started on pets?
GENE: My friend Dave Thrasher was doing paintings of his own cats. That lead to my becoming interested in doing animal portraits. These are portraits of people's pets who have passed on and gone to animal heaven. When someone comes to pick up their pet portrait, very often they cry uncontrollably. Which, for me, is a sign that I have succeeded. It's strange when someone comes to get their art. This is a rare case where crying is a good thing.
JULIA: What types of pictures work best? Indoor, outdoor? Do you ask for any specifications?
GENE: I kinda like outdoor. The light source is natural. It's my preference for the pet to be looking at the viewer. That way, my portrait engages you and actually follows you as you walk by. It brings life to it. It's like the animal is alive.
JULIA: Wow! I see what you mean about the eyes.
GENE: I've done cats and dogs and birds and one hedgehog.
JULIA: What kind of pet would you like to draw that you haven't yet?
GENE: I haven't done horses and I know there are lots of people with horses. Also, I would like to do more colorful exotic birds.
JULIA: I saw a picture of a horse in your gallery.
GENE: I did one sample based on some photo I found.
JULIA: I've heard that human hands can be difficult to draw. Are paws easier?
GENE: I don't usually do the paws, but when I do, they are about the same. Usually when a person draws hands, they draw them too small. I usually draw the pet portraits from the chest up. When I start, a pet portrait is very daunting because the pet's coat is unlike human skin. There are some unfamiliar features that are not like human features. It requires a lot of studying. It's like a jigsaw puzzle, but when I start looking for lights and dark, warms and cools, the puzzle comes together. And when it does start to come together, it's very exciting for me and very rewarding. I'm relieved that I solved the puzzle.
Gene's Tips For Aspiring Artists
Some of our young readers out there might see Gene's work and find inspiration to start painting or drawing pets, too. I asked Gene for some advice for aspiring artists.
JULIA: Do you have any tips for young artists out there drawing their pets?
GENE: I suggest they work from photographs because pets don't sit still. My method is to look back and forth quickly comparing your drawing to the photo. By looking back and forth quickly you can check for accuracy and symmetry. A good trick in checking for symmetry is to hold your drawing up to a window and reverse it. You can see if it's symmetrical or not. If it's lopsided, that means you need to do some more work on it.
How You Can Request Art From Gene
After seeing Gene's beautiful portraits, you may be wondering how you can request your own painting of a furry family member. I asked Gene how our readers can work with him to have lasting memorials for their pets.
JULIA: You live in Des Moines. What if someone living in another state wants you to do a portrait of their pet?
GENE: I work by e-mail. They send pictures of their pets.
JULIA: What are the sizes and price ranges?
GENE: For a single pet, it's most common to work on an 11 by 14 inch format and I use pencil and watercolor on archival, antacid-free, watercolor paper. For a single pet it's $150 and about $15 for shipping. I do multiple pets, too. You can see more pictures on lovingpetart.com.
If you are interested in seeing more Gene Hamilton art, you can follow his Facebook Page.
It doesn't matter where you live because he works through e-mail. These pet portraits would make a nice gift for someone, or splurge and get one for yourself.
I sure wish that I could draw like Gene. Since I can't, he would be the person that I would want to memorialize my pets.
Are you able to draw? Have you ever done animals? The fur sounds tricky. If you have any sketches or drawings of your pets, please post pictures in the comments below.
Related Articles:
Disney Artists Draw Star Wars Characters With Their Cats
Inspire Your Heart With Art Day: 5 Cat Art Pieces For Your Home