You know all those pictures of celebrities driving with a dog in their lap? Ever been passed by a car with a dog sticking his head out the passenger window?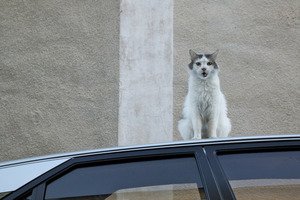 That won't fly in the Garden State.
Drivers in New Jersey who don't have their animal in a seat belt or carrier in a moving vehicle could be fined up to $1,000 for each violation; they may also be charged with disorderly conduct and could spend up to six months in jail.
The fine for a human not wearing their seat belt in a moving vehicle in New Jersey is approximately $46.
Dogs in a moving vehicle must wear a harness that is attached to the seat-belt buckle; cats must be in a carrier that also buckled to a car seat. Dogs also can no longer travel in the back of pickup trucks or stick their heads out the window of a moving vehicle.
"People are actually driving with a dog or a cat on their laps," Ray Martinez, of the New Jersey Motor Vehicle Commission, told a CBS affiliate. "It's not cute. It's actually dangerous for the driver. It's dangerous for other drivers and it's dangerous for that pet."
According to Distraction.gov, the official government website for distracted driving, in 2010 416,000 people were injured in vehicle crashes involving a distracted driver, and 3,092 people were killed in such incidents.