The worst wildfire in Colorado history is taking its toll on area residents — both the two- and four-legged kind.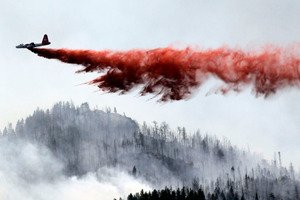 Though area firefighters continue to make progress in battling the "super fire," the Waldo Canyon Fire is still raging.
One of the areas most affected by the blaze is in and around Colorado Springs, where one person lost their life, 10 are currently missing, and nearly 350 homes have been destroyed. The Largent family lost their home to the blaze, but with their family members accounted for — including the family cat — they are counting themselves lucky. "We got us out, our daughter out, and our cat out," says Byron Largent. "What else matters?"
Thousands of people have already been evacuated, and while some of them are able to bring their pets with them, other families have had to board their dogs, cats, horses, and more until they get the all clear to return to the area.
The Humane Society of the Pikes Peak Region (HSPPR) has set up a website for evacuees that list area shelters and facilities that will board pets during the evacuation process. The site is also calling for volunteer assistance, much-needed supplies, and monetary donations to help cover the cost of caring for pets displaced by the wildfire.
The HSPPR is also one of many locations that have opened its doors to pets during this difficult time, offering to board animal companions that cannot accompany their human families during the evacuation. Since the start of the blaze, the organization has taken in over 250 pets. There has been such a need to house pets that the HSPPR has had to set up an emergency shelter at the Freedom Financial Service Expo Center, which is currently housing about 170 pets — everything from dogs and cats to birds, ferrets, and bunnies.
"It's such an emotional time for our community," says HSPPR Communication Specialist Erica Meyer. "There's such a sense of loss and so we're doing out best to care for animals."
Volunteers have stepped up and offered their help during the crisis, including Barbara Yaschick, who is trying to pay it forward after the Manitou Springs resident had to evacuate her home. "Family and friends came over and evacuated my animals, two dogs and a bird, so I'm just trying to do another turn," she says.
The Larimer Humane Society in Fort Collins, Colorado is also boarding evacuees' pets at no charge. Resident Michael Scronce, who has had to evacuate his home three times since the start of the fire, had to leave his Doberman Pinscher and Pit Bull–Whippet mix at the Larimer Humane Society for 15 days. Scronce was more than grateful for the help the organization provided. "I hope people understand how incredible it is to not have to worry about your dogs when you get displaced by a fire," he told the staff there. "You took my worries away and that really helped me a lot."
Larimer Humane Society rescue crews have been sent out to High Park area neighborhoods rescuing animals that have been left behind. The organization has been checking in on pets, bringing them food and water and attending to medical needs.
The Colorado State Veterinary Teaching Hospital in Fort Collins is also housing evacuees' pets, serving as an overflow shelter for the Larimer Humane Society. CSU veterinarians and veterinary students have been working around the clock to care for more than 100 small animals, and even check in on the horses, donkeys, and sheep taken in at a Larimer County facility nearby.
For an up-to-date map and information about the Waldo Canyon Fire, check out the Colorado Division of Emergency Management website and the Google Crisis Response map. For information about helping your pets during a wildfire, check out the article "Wildfires and Pet Safety" on the DogTime Dog Blog. If you're wondering how you can help pets and their people affected by the wildfire, check out the Humane Society of the Pikes Peak Region Volunteer page.