The Harbor House of Central Florida is an organization that provides emergency shelter for victims of domestic violence. And starting in October 2012, the facility will also serve as a safe haven for victims' dogs, cats, and small pets when it cuts the ribbon on its state-of-the-art Paws for Peace Kennel.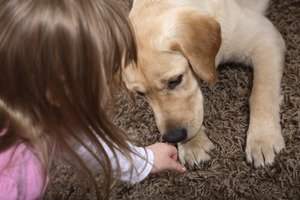 The statistics surrounding domestic violence and pets are staggering. According to the Harbor House site, 85 percent of women who escape to a shelter report that their pets had been abused in their home as well, and 57 percent of women who have fled abusive partnerships reveal that their pets have been hurt or even killed as a result.
When the kennel opens, it will be one of 70 domestic violence shelters nationwide that allows victims to remain with their four-legged friends.
"It's been a long time coming," said Harbor House CEO Carol Wick. "We're in the homestretch now, and it's thrilling that we're finally here."
The shelter and onsite kennel are being constructed based on a model provided by the Sheltering Animals and Families Together Initiative out of Washington D.C. The Initiative explains that pets can provide a sense of comfort and stability for victims of domestic violence. According to their website, 48 percent of women stay with abusive partners or delay their escape because they fear leaving their pets behind.
The Paws for Peace Kennel will include 10 dog kennels, 10 cat cages, and enough space in the 1,500 square foot building to house ferrets, hamsters, and other small pets. An exam room and grooming area will be located onsite as well.
A victim of domestic violence submitted a letter to the Harbor House of Central Florida explaining how their Paws for Peace Kennel will change the lives of so many women seeking to leave abusive partnerships, women who might have otherwise had to face the difficult decision to leave their beloved dog or cat behind knowing that their pet would likely suffer often deadly consequences. The letter was presented to a crowd of 50 during a tour of the nearly completed facility July 27.
"I planned my escape for several days…my cat was my constant companion," the Orlando Sentinal quotes from the heartfelt letter. "I didn't want to leave her," the woman continued.
But sadly, in order to make her escape, the writer of the letter was forced to leave her cat behind, as there were no facilities that would shelter her — and her cat. She reflects on how much easier it would have been to flee were she able to bring her kitty along, too.
"Now they can take their pet, take their belongings and take their kids and not have to hesitate," the letter read.
In addition to the Paws for Peace Kennel, the Harbor House will also include a room that will be used to store donations and Harbor House residents' possessions.
To accommodate and serve the people and pets that will be staying at the shelter following the October 3 grand opening, the Harbor House is excepting donations of cleaning supplies, pet food, pet bedding, grooming supplies, and much more. Check out the Harbor House website for the organization's downloadable "Wish List."
Sources: OrlandoSentinal.com, HarborHouseFL.com, AnimalsandFamilies.org