New pictures of Anne Hathaway as Catwoman (see above and right) in the upcoming The Dark Knight Rises movie are making the rounds on the Internet. In the comic-book, Catwoman is a cat burglar who carries a whip; now it looks as if she's traded in that weapon for an automatic pistol.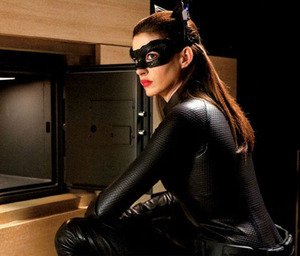 Hathaway is hardly the first person to play Selina Kyle and her alter ego Catwoman. Past actresses include Julie Newmar, Lee Meriwether, and Eartha Kitt (all for the 1960s Batman television series); Michelle Pfeiffer in Batman Returns (1992), and Halle Berry in Catwoman (2004).
Hathaway appears in Catwoman garb on the cover of Entertainment Weekly's Summer Movie Preview issue with Rises co-star Christian Bale.
The Dark Knight Rises opens on July 20; its predecessor, The Dark Knight (2008), grossed $1 billion worldwide in its theatrical run, and is ranked as the fifth high-grossing movie of all time in the United States.
Watch The Dark Knight Rises trailer below: