A man in the U.K. charged with causing unnecessary suffering to an animal pleaded not guilty on Thursday.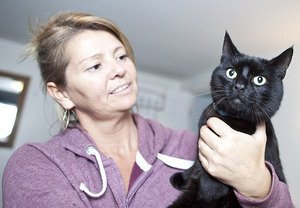 Riain Richards, 20, of Ramsgate, Kent was filmed swinging a 2-year-old cat, named Mowgli, by the tail on October 29, 2011 outside a local pub. In the video (see below), Richards is seen holding the cat by the tail as he spins down the street. The animal nearly collided with several parked cars during his "dance," which lasted for approximately 30 seconds.
Michelle Buchanan, Mowgli's owner, claims the cat was uninjured, but suffers from mental trauma.
"It's horrific. I can't believe anyone would do something that cruel," Buchanan told AFP.com. "Mowgli is emotional. He's just distraught. He won't go out of the door."
Richards was released on unconditional bail. He turned himself into authorities after the RSPCA released the CCTV camera footage to the public and asked for help in identifying the cat's assailant.