Pet Product Review: Orvis Dog Proof Feeding Station
Every so often I see a product in a catalog or store and can't think to myself "how genius, I need this". Well that's exactly what I thought when I was reading the Orvis Dog Book and saw the Dog proof feeding station for cats.
If you're like me and have both a cat and a dog, there is a constant struggle to keep your dog out of the cat food. Considering more than 40% of households with a dog also have at least one cat; this is a big problem. Most of us simply put the cat bowl on a high counter or shelf. Surely this is not the most sanitary or convenient solution.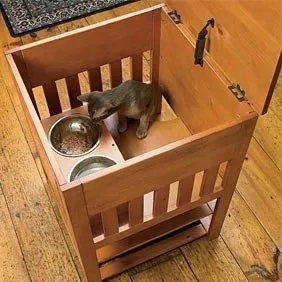 With the Orvis Dog Proof Feeding Station your cat has a secure place to eat. Best of all its not on a kitchen counter and where the dog can not enter. The feeding station's enclosed food platform is accessed via a cat-size opening in the floor. This reminds me of my first tree house. Humans can enter via the hinged lid that props open for easy access and stays securely shut when closed. Side slats allow for a dining sanctuary where your kitty can eat in peace while enjoying the view of family activities outside.
The cost is luxurious at $249 on Orvis. So, consider this feeding station a substantial piece of furniture. But then again, if you consider how much money you'll save in cat food not stolen by opportunistic pups, then maybe it pays for itself in a year.