Living with two small dogs and a cat means switching out water bowls frequently to keep them fresh and slobber-free. While it wasn't a nightmare of a task, it became tedious, and washing out my animals' water bowls several times a day further cracked my already over-sanitized and dried hands.
Fortunately, the eufy Petcare Water Fountain has cut down the need to scrub out my pets' water bowls as frequently, and I know that they are getting filtered, clean water.
Here's what happened when my pets tried out the eufy Petcare Water Fountain.
How The eufy Petcare Water Fountain Worked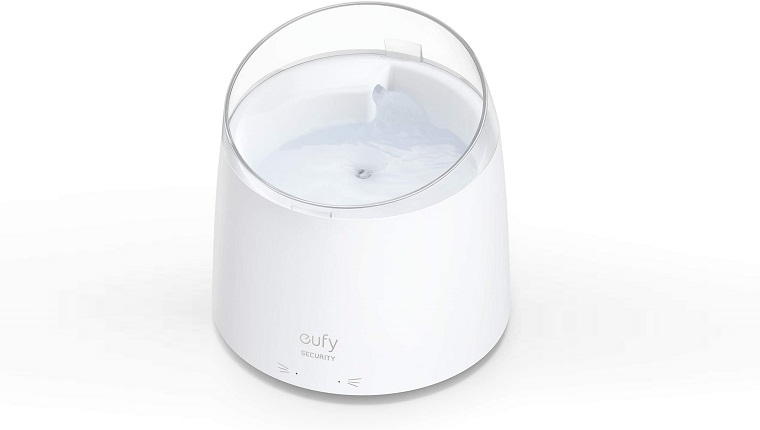 The eufy Petcare Water Fountain boasts a 1.5 liter capacity, which is typically enough to keep one cat hydrated for four days. Since I have three animals, I usually have to refill the bowl once a day, if even.
At first, my animals were a little hesitant about the fountain, but then my calico Pookie bravely took the first sip.
After a couple days, all three of my animals were happily slurping away at the fountain.
Should You Buy The eufy Petcare Water Fountain For Your Fur Babies?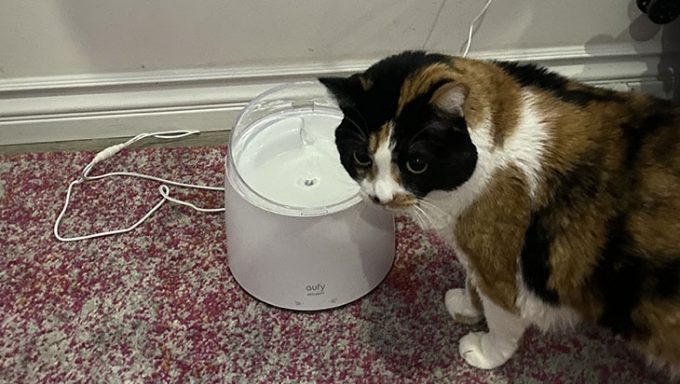 Overall, I really enjoy the fountain. I like that the 5-tiered filtration system sifts out funguses like ringworm, something that could quickly escalate in a household of three animals sharing a water bowl!
The one downside to the pet water fountain is the finicky cord. With my model, the connector had to be just a certain way in order for the fountain to function. I found that pulling the cord and making sure there weren't any (and I mean any) kinks helps it work without a hitch.
At $49.99, it's not an inexpensive investment, and the lack of a completely functional cord is the only thing that would make me hesitant to purchase. Still, my hands are less cracked, and I don't have to worry about filling the water bowl as often, which is a small-but-nice relief.
Give this water fountain a try if your pets are finicky about their normal bowl, if you'd like to give your pets cleaner water, or if you'd like to cut back on refilling and cleaning your pets' water bowl so much.
You can buy the eufy Petcare Water Fountain on Amazon here!
Have your pets tried the eufy Petcare Water Fountain yet? What did you think of it? Let us know in the comments below!
The writer of this article received no financial compensation from eufy for this review.