February 18th is National No One Eats Alone Day. It's a day to encourage kids at school to make friends during lunch. Adults often don't mind eating lunch alone. We forget how painful it can be for kids to eat lunch all by themselves and, sadly, it happens every single day.
As cat lovers, we have our kitties around to keep us company. Even when we're eating "alone," we're never really alone with our feline friends by our sides. We should all learn about love and compassion from our cats!
With that in mind, here are ten cats who inspire us to eat with new friends, no matter how different they might be, on No One Eats Alone Day!
10 Kitties Eating With Pals For 'No One Eats Alone Day'
National No One Eats Alone Day was piloted in 2014. It's a day to remind kids in schools to reach out to new students and eat lunch with someone who might feel lonely. It helps teach kids to put aside differences and meet new people.
If you have a child, encourage them to eat with someone new on this day. You never know. They just might make a new friend.
Most pet parents will never eat alone. We're surrounded by furry bodies, especially when we're eating!
No One Eats Alone – A Powerful Message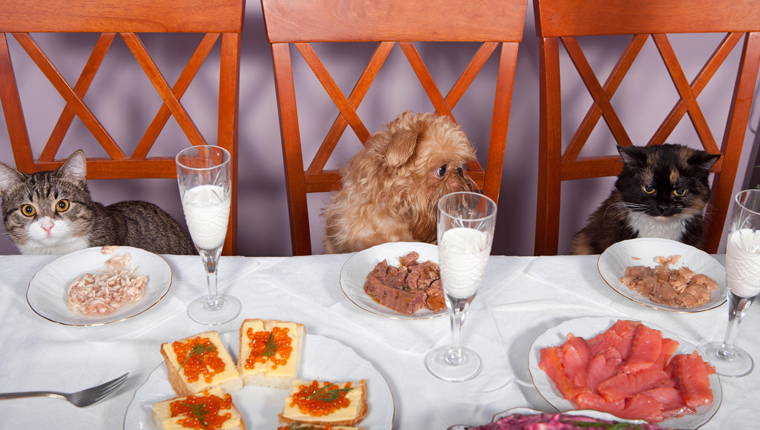 We could all learn from our kitty cats. Cats don't judge each other based on a class system. In the wild, they usually form colonies.
National No One Eats Alone Day is a relatively new national day; it has a very inspiring message and could have a positive impact on youth. Some kids just don't know how to reach out to others and suffer in isolation.
As adults, many of us might prefer eating by ourselves. For kids and teens facing social pressures and learning how to interact with others, it can be horrible.
This also is a good day to get kids without social hang-ups to reach out to others. They might not even realize that so many kids do, in fact, eat lunch alone every day.
If you ever feel isolated, please don't hesitate to reach out to friends. People like to feel needed. I know I do!
What do you think of National No One Eats Alone Day? Do you think we can learn about loving and including others from our cats? Let us know in the comments below!
Related Articles:
No One Eats Alone Day
National No One Eats Alone Day

(Picture Credit: Melissa Renwick / Contributor

/Getty Images)

National No One Eats Alone Day

(Picture Credit: Xari Phr Srisukh / EyeEm

/Getty Images)

National No One Eats Alone Day

(Picture Credit: GK Hart/Vikki Hart

/Getty Images)

National No One Eats Alone Day

(Picture Credit: mashabuba /Getty Images)

National No One Eats Alone Day

(Picture Credit: Melissa Renwick / Contributor

/Getty Images)

National No One Eats Alone Day

(Picture Credit: 101cats /Getty Images)

National No One Eats Alone Day

(Picture Credit: Liezl Enriquez / EyeEm

/Getty Images)

National No One Eats Alone Day

(Picture Credit:  Anadolu Agency / Contributor

/Getty Images)

National No One Eats Alone Day

(Picture Credit: aleksandrovaphoto/Getty Images)

National No One Eats Alone Day

(Picture Credit: FLORIAN CHOBLET / Staff

/Getty Images)