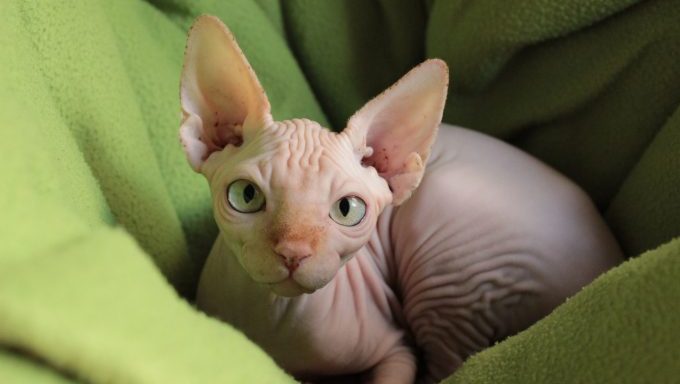 Star Wars Day is here, and pet owners everywhere are psyched to feel the force of May the 4th. If you're a cat lover and a Star Wars fan, you're not alone. And this year, Chewy is harnessing those two passionate demographics for one out-of-this-galaxy contest.
Does your cat have star power?
Think your pet is a star in the making? Do they have Yoda's iconic pointy ears or wise wrinkles? Are they always teaching you valuable lessons and inspiring you? Do they have a legendary and adorable quality that sets them apart? If so, unleash your creativity and enter Chewy's casting call today!
Chewy is searching for a Yoda pet lookalike to star in a Star Wars campaign. The best Yoda will embark on an epic mission and receive a custom professional photoshoot, spotlight on Chewy's website and social media, along with fun items from The Star Wars Collection at Chewy and Chewy's Personalized Shop.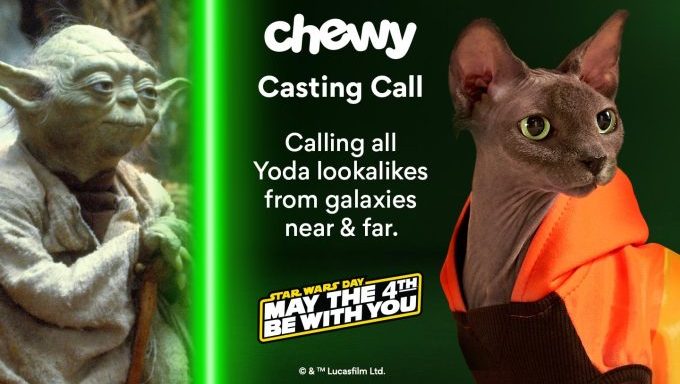 Star Wars cat names
According to Chewy, over 20,000 customers have named their pets after Star Wars characters. In fact, Yoda is the fifth most popular name. Other favorite pet names from the franchise include:
Chewie/Chewy
Luke
Leia/Princess Leia
Kylo/Kylo Ren
Chewbacca
Ahsoka
Anakin
Grogu
Han Solo
Not only do myriad pets share a name with Yoda, but many resemble Yoda as well. Need proof? Type #yodacat into the search box of any social media platform and watch your phone explode with cuteness. The cat breed best known for their Yoda-like characteristics is the Sphynx.
How to enter Chewy's casting call
Share a photo of your Yoda lookalike pet on social media and tag @Chewy. Also, use the hashtags #ChewyCastingCall and #Maythe4thBeWithYou. Submissions will be accepted from May 4 – May 31.
The winner will receive a VIP (Very Important Pet) Prize Package that includes:
Professional photoshoot with Chewy Studios
Spotlight on Chewy.com
Spotlight on Chewy's social media pages
A box full of goodies from The Star Wars Collection at Chewy
Framed photos and personalized items
Celebrate May the 4th in style
You don't have to enter or win the contest to celebrate May the 4th in style. Chewy has an entire Star Wars collection with a ton of gear you and your pet need to celebrate this beloved saga. Join the fun side with toys featuring your favorite characters like Yoda, Grogu, Chewbacca, Stormtroopers, R2-D2, C-3PO, the Millennium Falcon, Death Star, and many more! Or show off your Star Wars love with bandanas, apparel, collars, leashes, beds, bowls, and treat jars.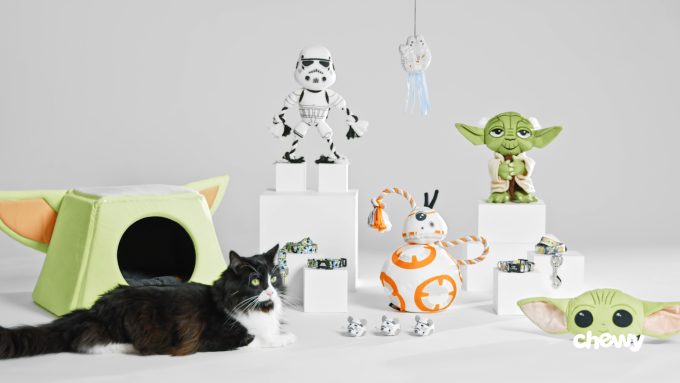 Good luck, and May the 4th be with you!
Chewy assisted in the creation of this article.