Electric cord bite injury in cats happens when a cat gets electrocuted after biting through an electrical cord. Unfortunately, the condition is common.
Generally, the condition produces a range of symptoms from burns to death.
Technically, the condition is also known as electrocution in cats.
If you see the signs of the condition in your cat, then get to a veterinarian for a proper diagnosis and treatment.
Here's what you should know about the symptoms, causes, and treatments for the condition.
Symptoms of Electric Cord Bite Injury in Cats
The condition produces a range of symptoms. For example, some of the most common symptoms include:
Burns
Coughing
Breathing very fast
Vomiting
Seizure
Cardiac arrest
Skin turning blue (cyanosis)
Collapse
Breathing problems
Causes of Electric Cord Bite Injury in Cats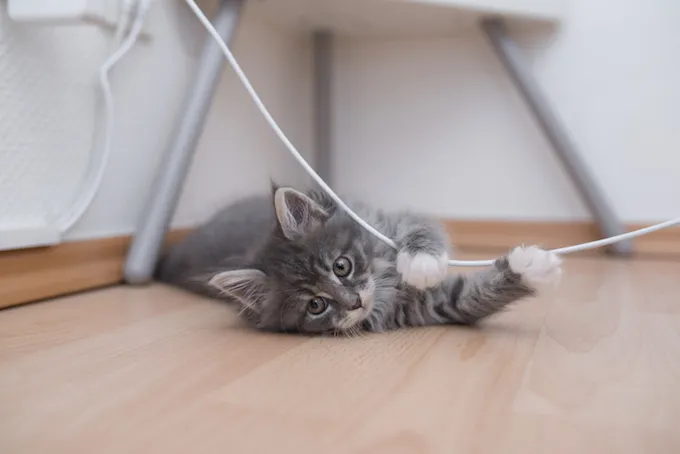 The cause of the condition is a cat biting an electrical cord. Specifically, the following factors contribute to the condition:
Lightening strikes
Damaged circuits
Faulty wiring
Additionally, the condition affects younger cats the most.
Treatments for the Condition in Cats
Firstly, your vet will ask about your cat's symptoms. Secondly, your vet will ask about any circumstances where your cat could have bitten through an electric cord.
Thirdly, a full physical examination will be carried out. Also, blood and urine tests will be taken.
Additionally, an electrocardiogram (EKG) can rule out heart conditions that cause similar symptoms.
Generally, treatment will depend on the severity of the symptoms. For example, intravenous fluid therapy can be used in some cases. Also, medication can be used to relieve pain.
While recovering at home, make sure you provide your cat with a calm and relaxed environment. Also, schedule follow up visits with your vet to check on your cat's recovery.
Finally, remember that prevention is better than cure with this condition. You can read more about how to keep your cat safe from electric cords here.
Have you ever cared for a cat who suffered from this condition? How did your vet help your cat recover? Let us know in the comments section below.