Squeaky lived as an outdoor cat and spent his days basking in the sunshine in the small beachside community of Playa Del Rey, California. He was fed, neutered and cared for by his owner. Unfortunately, his owner had Alzheimer's disease and was sent to a nursing home and nobody had plans for Squeaky. Luckily, a new set of next-door neighbors moved in, Laurie and Paul Berkowitz and fortunately, they both had a love for rescuing cats. They already rescued two cats at three weeks of age, Pink and Boo, and always welcomed the idea of expanding their pet family. Pink and Boo were abandoned by their Mama and were found outside of Laurie's mother's house. Still too young to digest kitty food, Laurie Berkowitz, bottle fed them and helped them learn how to walk and eat.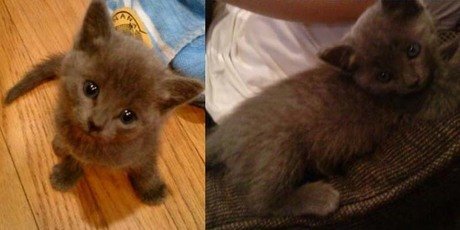 After the moving truck pulled away, it was not long before Squeaky made his presence in their yard. Yet, Squeaky was scared of Paul and Laurie. Laurie Berkowitz shares with cattime, "He was so frail and we didn't think he was going to live. He had a large eye infection and could barely move. We could never find him and assumed that he had disappeared." One day a very well fed neighborhood cat, Diesel, kept coming to their door. He refused to come inside to eat and insisted we brought food to him on our doorstep. He was very persistent in his meowing for food and they continued to provide food for him. Paul and Laurie soon realized that Diesel was letting Squeaky eat the food and he would stay on-guard to make sure he ate. It was with great relief that they learned that Squeaky was still alive. Paul and Laurie Berkowitz slowly nursed Squeaky back to health again. They fed him and gave him the vitamins he needed to build up his strength. "Now he has become our cat and hangs outside our door daily. We have fallen in love."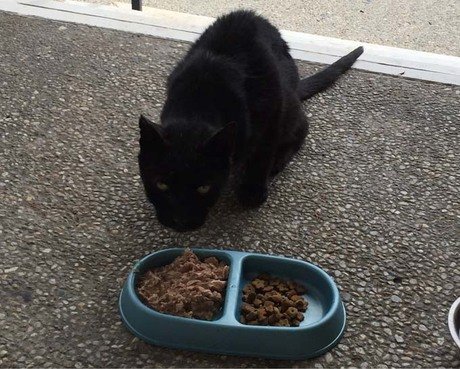 If you are considering doing the same for a stray cat in your neighborhood, The Humane Society helps answer detailed questions about stray cats and feral cats HERE. You never want to bring a stray animal into your home if you have pets, it could carry deadly diseases. Better to quarantine until you can get the animal to a vet for a proper check up.
A stray cat is a pet that has been abandoned or is lost and is familiar with contact and is domesticated enough to be adopted. Whereas, a feral cat comes from a litter of feral or stray cats and is not used to contact with humans. Feral cats are usually too timid and anxious to be adopted.
If the cat appears docile, the first step is to try and find the cat's owner. You can post the cat's picture on craigslist's lost and found or make flyers to disperse around your neighborhood. If the owner can't be found, the next step would be to take on the responsibility of the cat like the Berkowitz's or try and find him/her a permanent home through a shelter, rescue or within your circle of family, friends and community.
If the cat is feral, unapproachable, and cautious after a few feedings, it is best to assess if this cat has been spayed or neutered by clicking HERE. If it appears the cat is not, you can click HERE to find out if there are local groups providing "Trap Neuter Return (TNR)" services that will spay or neuter your homeless cat. The Human Society's map of feral cat organizations is a good place to start looking. You too can help a hungry and abandoned cat. Let Laurie and Paul Berkowitz inspire us all that you may find and also help a homeless cat in need in your own backyard.