Labor Day is coming up on September 6th, 2021! How do you plan to spend the Labor Day weekend? Most likely, you'll be out enjoying the last shards of summer as you devour a grilled feast and merrily quaff down some of your favorite brews.
There's obviously nothing wrong with that sort of revelry, but please remember to take a moment to think about the true meaning of the holiday, and especially how it relates to the diligent-yet-underappreciated working cats of the world.
So in honor of Labor Day, here's a salute to eight esteemed, real-life jobs for cats that need to be recognized and appreciated by all cat lovers!
1. Bodega Cat
 

View this post on Instagram

 
Being a bodega cat might be the most popular job for a feline.
Found in grubby block corner delis and bodegas across the map, the role is equal parts customer service ambassador and vermin patrol enforcer.
Napping among a stash of Lay's chips is mandatory.
2. TV Presenter Cat
If you've even been channel hopping and tuned into TV Tokyo, you might chance across a news discussion program co-hosted by a cat. Originally, the show's on-set feline was a ginger tabby named Maago who was fond of sticking his head in a guest's mug and stealing their tea while on camera.
After Maago passed away in 2014, his position was taken on by Nya Nya (which means "meow meow" in Japanese), a kitty who was adopted by one of the show's staff after being left abandoned at a garbage depot.
Nya Nya's highlight reel is immense.
3. Circus Cat
 

View this post on Instagram

 
For any particularly outgoing and athletic felines, a career as a circus cat is a natural calling.
It's said that being part of the Acro-Cats troop is the pinnacle of showmanship. Their rescue cats don't always perform on cue, but frequent breaks are part of the feline work day!
4. Stationmaster Cat
 

View this post on Instagram

 
Tama was one of the world's most respected working cats. Before she passed away, this Calico held down a role as stationmaster at the Kishi Station in Wakayama, Japan.
The former stray became such an attraction that, in 2009, a Tama train was launched, while a year later, the Kishi station was redesigned to resemble a feline face in recognition of her work.
After Tama passed away from heart failure, she was succeeded by Nitama, her able deputy at the station.
5. Politician Cat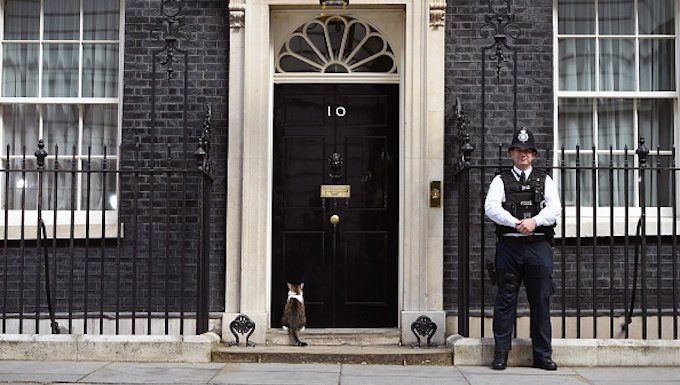 You may remember when the fierce back and forth power struggle between Larry, the U.K. Prime Minister's cat, and Palmerston, the Foreign Office's resident feline, provoked much hard-hitting political debate.
But both of these upstanding public servants know that a little roughhousing is simply part and parcel of the political process.
6. Cat Café Cat
 

View this post on Instagram

 
Sure, it may look like being a cat café kitty is all about lounging around, receiving petting sessions, and sneaking treats from unwitting visitors.
But rest assured, life as a working hospitality cat is hard: Just imagine how long it took Jub Jub (pictured above) to successfully hoard all of the toys for himself!
7. Library Cat
 

View this post on Instagram

 
A distinguished and learned position, the library cat enjoys a life of quiet contemplative reflection.
The ability to nap in accordance to the Dewey Decimal System is a bonus.
8. Pub Cat
 

View this post on Instagram

 
Finally, over in the United Kingdom, bars with in-house cats are common occurrences.
Let the formal record show that a pub with a cat lounging on the actual bar by the beer taps is perhaps the most comforting sight for us mere humans as we imbibe. Cheers!
Does your cat work hard or hardly work? Should we celebrate any other working cats on Labor Day? Let us know in the comments below!