It's a holiday trope we're all familiar with. The kids run downstairs to the Christmas tree, and the parents tell them to open a certain box with holes in it first. Out of the box pops an adorable Christmas kitten, complete with a fancy red bow around their neck.
Many cat lovers may toy with the idea of giving their family or a friends a kitten for Christmas. It can be tempting to give an adorable furball as a present. But along with all of that cuteness comes a lot of responsibility.
There are daily chores that go with cat parenting, as well as financial obligations, and that's a commitment that will last for well over a decade — maybe even more than two!
If you really would like to give someone in your life a kitten as a Christmas present, here are a few rules you should follow.
Don't Make The Kitten A Surprise Gift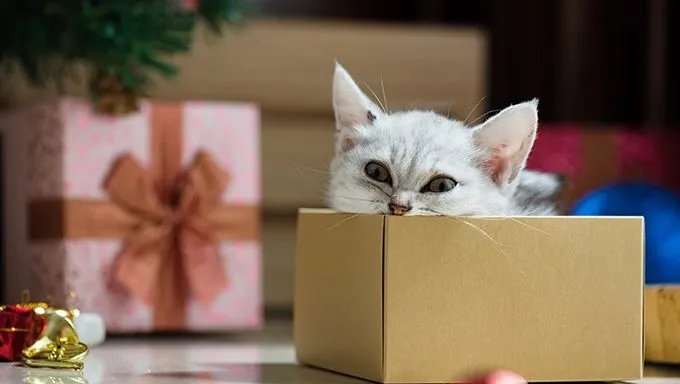 If you want to give your kids, other family members, or friends a kitten for Christmas, make sure it's okay with everyone in the house of the recipient before adopting.
This includes making sure the recipient absolutely wants a kitten and understands all that goes into caring for a kitten. This is a gift that cannot be completely out of the blue.
While you may have a thousand arguments as to why a kitten is a great addition to a home, not everyone has the time, money, space, or interest in caring for a pet.
Having a cat is a massive responsibility, and forcing that commitment on anyone is not fair to the kitten or person.
Don't Make An Impulsive Decision To Get A Cat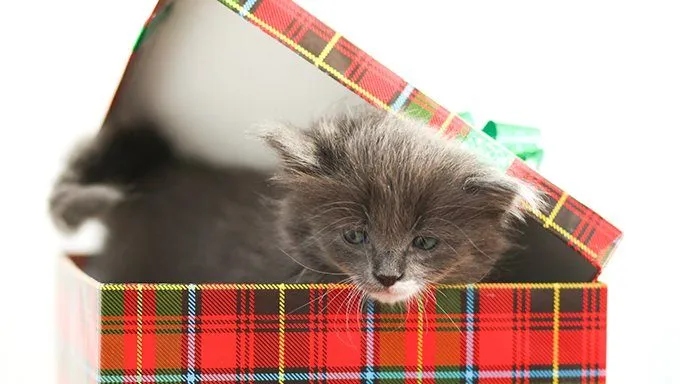 You may not know what to get a certain someone in your life as a holiday gift, and then, like a sign from above, there is a volunteer from an animal shelter asking for donations outside your local grocery store.
You can't help but think that an adopted kitten would be the best gift for your friend, or spouse, or child, or parent! And you know they want one, so what's the problem?
Acting impulsively to give a kitten as a Christmas present is a bad idea, not only because you should always check that a pet is what a recipient wants as a gift, but because it does not give you time to consider the needs of the recipient.
Do they want a young kitten, or will getting whatever cat you decide on at the shelter be okay? What if they want a mellow cat and you pick out a feisty kitten?
Impulsively adopting a kitten as a gift doesn't let the recipient pick the temperament, size, and age they want — all important factors when deciding to get a kitten.
Let The Recipient Pick Out The Kitten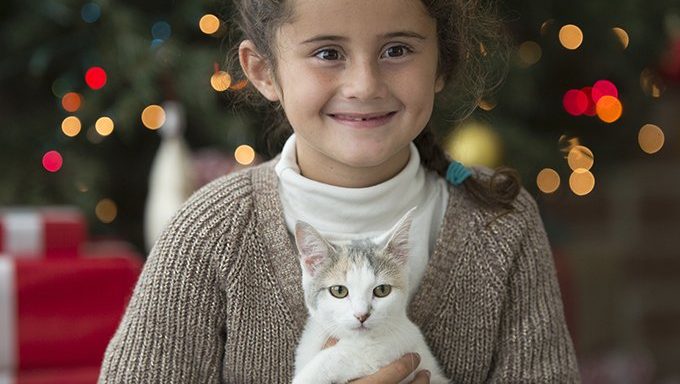 If the recipient is ready and 100 percent willing to get a kitten as a holiday gift, and then care for that cat for the next 18 years or more, it is important that they pick out the kitten themselves.
Offer to pay the adoption fee and spring for a few kitten necessities, but do not rob them of the joy of finding their own kitten.
Initial bonding with a new kitten is vital, and taking away that special moment from your recipient would take away from such a special gift.
Suggest Your Friend Wait Until After The Holidays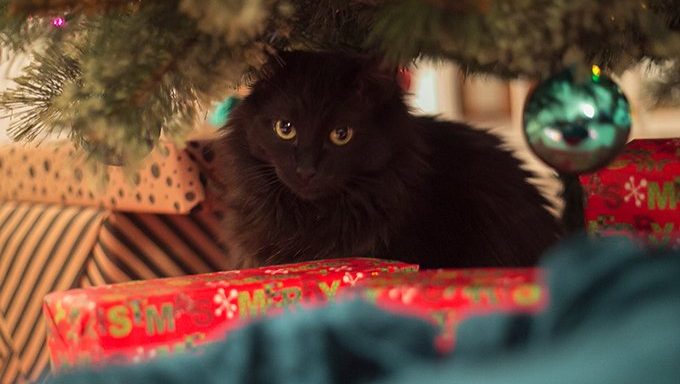 Although the recipient of your kitten gift may be so excited to get their new cat, it might be worth considering waiting until after the holidays to go pick out their new best friend.
The holidays can be a chaotic time. Lots of Christmas and holiday décor can be a danger to kittens and cats.
Suggesting that your recipient wait until after the holidays won't just save the new kitten from a load of stress once entering the home, it will also give your friend extra time to make sure this is a decision they are absolutlely comfortable with.
Also, make sure the soon-to-be-new-cat-parent doesn't have any major travel plans in the coming weeks or months. Just like a new baby, they will want time to bond with their new kitten or cat.
Have you ever given a cat or a kitten as a gift? What did you do to make sure everything went as smoothly as possible? Join the conversation in the comments below!