On April 25, Cattime.com reported on Meow, a 39-pound cat that was surrendered to a shelter in Santa Fe, N.M. Sadly, the feline passed away on Saturday, May 5.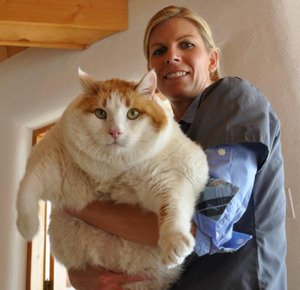 According to the Santa Fe Animal Shelter and Humane Society Facebook page, Meow died of respiratory distress. The cat began wheezing on Thursday, May 3 while living in a foster home. Despite immediate treatment and being attended to by four different doctors, Meow's condition worsened until he died of pulmonary failure.
"Meow had been doing so well in his foster home; walking up stairs and seeking affection – that it is so very hard to believe he is gone," Mary Martin, executive director of the Santa Fe Animal Shelter and Humane Society, wrote on Facebook. "We will forever be grateful for the attention Meow's size brought to pet obesity and to animal shelters across the country."
Meow was undergoing a special diet to lose weight. The 5-year-old cat weighed 39 pounds; according to veterinarians, he should have weighed 7 to 12 pounds.
"We mourn Meow's death, but we also hope his fight will encourage other people to help their pets maintain the best health possible," Jennifer Steketee, the veterinarian who monitored the cat's health, said. "Obesity is not something to be ignored."
Steketee appeared with Meow on the Today show.