A 6 week-old kitten took a 100-mile road trip ride in August, after she wedged herself behind the front bumper of a Jeep.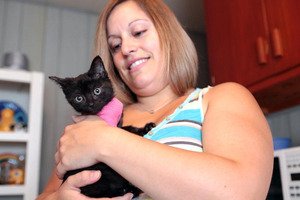 Plattsburgh, N.Y., resident Stacey Pulsifer saw the feline before she drove to a wedding in Elizabethtown. "I saw her on my porch on a Friday evening after work," Pulsifer told Yahoo! Shine Pets. The following day, Saturday, Pulsifer drove to Elizabethtown, then to Peru, and back to Plattsburgh.
According to the Press-Republican, Pulsifer claimed she could hear meowing when she stopped for coffee at a restaurant drive through. When she finally arrived home, Pulsifer, along with two friends, searched her car for the mysterious sound. They found the kitten she saw the previous day and were able to free the animal after unbolting some parts from the automobile.
The cat's trip was not without incident, as the feline broke her paw in three places. The cat has a cast over the injured limb for now; when she's older the limb will have to be amputated. Pulsifer estimates the cat was stuck in the vehicle for 22 hours.
Pulsifer named the kitten Pumpkin, and adopted her. With the cat's medical bills approaching $800, the woman's landlord generously told her she could take her rent and put it toward the vet bills instead, the PR reports. Her friends also made donations.
Pumpkin joins Lucabella, Pulsifer's other cat. "She's adapted," Pulsifer said of Lucabella to the PR. "She's not a friendly cat to begin with, but she is fine with it."
This is hardly the first time a feline has gotten wedged in an automobile: on August 23, CatTime.com reported on Fender-Linx, a kitten who went on a 25-mile trip while nestled inside the hollowed-out front bumper of a minivan.
Sources: Press-Republican, Yahoo Shine Pets