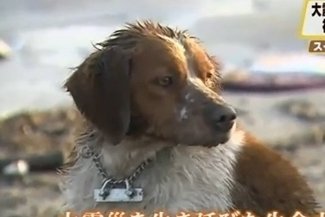 Spoiler alert: Both dogs have been rescued by Kenn Sakurai and his team, and are in the care of professionals.
There's nothing dramatic, in the conventional sense, about this clip. You simply witness compassion in its purest and most honest form, a subtly moving tribute of one dog's loyalty to his injured companion.
Many of the images coming out of Japan these last few days are eerily reminiscent of Katrina. Dogs and cats stranded atop piles of debris or abandoned buildings, some covered in mud or wet with filthy water, all frightened and bewildered. Fortunately (and unlike Katrina), many of these photos show rescue efforts in action, as opposed to simply abandoned animals.
I hope people on every continent and in every country watch this footage. And I hope the takeaway is something like this: In times of disaster, it's our responsibility to save everyone we can. It's unacceptable to turn away from the suffering of any individual, or to blatantly neglect non-human animals, simply because they can't call for help.