Approximately 77 dogs and 11 cats in the Macon Animal Control Shelter facility in Macon, Ga., need to find a home before June 6, or face possible euthanasia.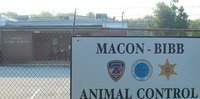 On June 7, the facility will undergo intense bug bombing, as the locale has been built on landfill and is overrun with cockroaches and mice. The fumigation will last from three to five days.
"In our break room, when you go in there to eat your lunch, if you were to walk back there right now, you'll see mouse droppings on the table, on the counter," Van VanDeWalker, an animal control officer, said. "It's that bad."
The mouse infestation is so severe that one of the shelter cats, Fiona-Fred, hunts and kills an average of four rodents each day.
Animals at the shelter appear to have three alternatives to euthanasia before the June deadline: Adoption, transfer to another shelter, or get fostered.
Shane Smith, president of Paws for Hope and Faith, is helping to find the animals a home. "The in-state people can can just come and adopt from the shelter," Smith said. "The out-of-state can go through a rescue; the rescue will come and pull the animal, set up transport, get it vetted, and then take it out of state and deliver it."
Anyone interested in adopting a dog or cat from the Macon Animal Control Shelter should visit the facility's website.