Earlier this month, we reported on a two-faced "Janus cat" named Harvey Dent that was born in Florida. Sadly, he died from complications two days after it entered the world.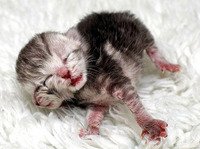 The cat was named after a character in the Batman comic-book series (Dent was played by Aaron Eckhart in the 2008 blockbuster The Dark Knight). The term "Janus cat" refers to the two-faced god in Roman mythology. Typically, cats with such a trait do not live very long, although there are exceptions; the oldest "Janus cat" lived for 12 years.
Harvey's mother, Nene, is a perfectly normal black cat.