A child in Midwest City, OK, rescued a cat from alleged abuse. The youth took the cat to a neighbor's house after two adults repeatedly threw the animal against a wall. Midwest City Animal Welfare is investigating the incident.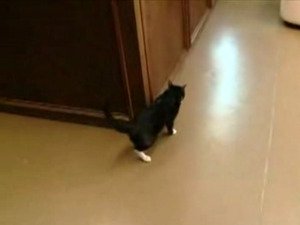 The 2-year-old cat suffered permanent spinal damage and muscle trauma from the abuse. The black-and-white feline now hobbles and has trouble walking; vets say the animal is lucky to be alive. The staff at All Hours Animal Hospital, where the cat was treated, named him Figaro.
"We can't save them all," veterinarian Jackie Puterbaugh says, "but the ones we do save we make a world of difference for."
Figaro is in good spirits, but he will never fully heal, as the damage cannot be completely repaired.
"Animals are very resilient," Puterbaugh says. "They heal well, they heal quickly, and they don't seem to hold grudges."
Figaro, now a special needs cat, will soon be looking for a new home and loving owners to give him the care he deserves.