On March 26, more than 130 cats were found living in squalid conditions inside a now-condemned trailer home in Halfmoon, NY; 19 of those cats had to be euthanized due to health and temperament issues. Last week, on April 10, two owners of that residence were arraigned and faced a judge.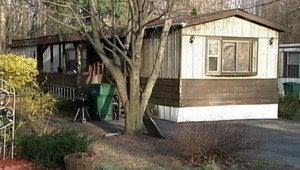 Arthur Millard, 53, and Mary Ryan, 61, were each charged with 51 misdemeanor counts of animal abuse and failure to vaccinate. The case was adjourned until May 8, as additional charges may be filed. Earl J. Millard, 26, the third suspect in the case, did not appear due to a conflict with his lawyer; he will be arraigned on April 24.
On his way into court, Arthur Millard answered a few questions posed by reporter Taryn Fitsik of News 10. Millard said he felt he was being unfairly targeted and that the charges against him were not accurate.
As for Ryan, her attorney made a brief statement: "My client has pled to no charges, and she's not planning on pleading to any charges."
Arthur Millard made headlines again, when more than 40 dead cats were found inside plastic bins in his father's backyard on April 5. Millard said he dumped the bodies, and that the animals died of natural causes.
James Millard, Arthur's father who drove his son to court, said he was unaware of the dead cats in his backyard. "I am his father, and I'm going to be his father for the rest of my life, and that's all I've got to say," James told Fitsik.
Authorities suspect there could be another residence where Millard is hoarding cats.
CatTime.com reported on the Millard case on March 29, April 2, and April 10.