As comic book nerds and pop culture junkies from across the globe are prepping their Cos-Play outfits for this year's Comic-Con, a few adorable pups and kittens are getting on their paws-play, too. In honor of the International Comic-Con this weekend, The Helen Woodward Animal Center is teaming up with Stone Brewing Co. to mash up two of the best things in the world: nerd culture and adoptable dogs and cats. This is Pawmicon!
What exactly is Pawmicon, you ask? Only the most adorable thing in the world. For the third year in a row, the animal rescue group is making a super HULK SMASH in order to help raise awareness for their rescues and hopefully get them adopted.
This year, the event will coincide with Comic-Con's sneak peak date, Wednesday, July 8th, and will be held at the Stone Company Store – located in Downtown San Diego – On Kettner between 4:00pm and 7:00pm.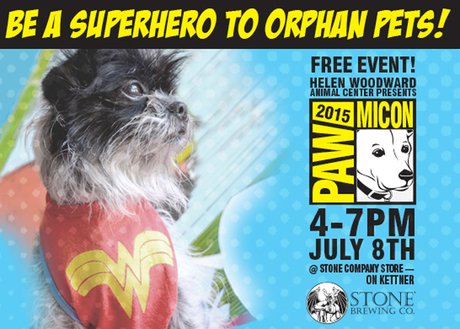 Pet owners are encouraged to dress up with their pups for the PAWSplay competition and the top three costumes will win prizes. Adoptable dogs and cats will also naturally be at the event and looking for a wonderful, geeky home. Along with the aforementioned costume contest, there will also be raffles for comic-themed prizes, dog friendly gifts, and Doggy Beer Bones. And if any owners feel like indulging in libations, the bar will be giving 10% of all bar sales to the orphan pets at Helen Woodward Animal Center.
So maybe you didn't get into Comic-Con, but you can still be a Super Hero this week. If you're in the San Diego area, you should check out Pawmicon. If you reside elsewhere, consider being a local super hero and see what events your animal rescues are holding.