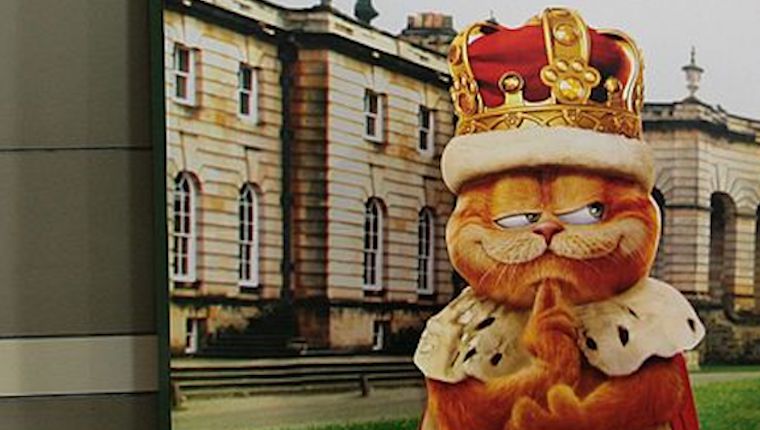 When it comes to famous pop culture cats, Garfield is one of the undisputed kings of the scene. Luckily, Garfield The Cat Day is coming up soon!
This proudly plump and happily lazy ginger cat has regaled the world with his sarcastic humor and penchant for feasting on lasagna since he debuted in 1978.
In honor of June 19th being recognized as Garfield The Cat Day, let's round up some vital Garfield facts any true fan should know.
Want to catch up on some funny Garfield moments to celebrate? Get started with the Garfield Fat Cat collection here! Or watch Garfield: The Movie here!
Do you have a favorite Garfield comic strip or scene? Are there any other facts we should know for Garfield The Cat Day? Then share with us in the comments below!
Garfield The Cat Day
The Origin Of Garfield's Name

(Picture Credit: Thomas S. England/The LIFE Images Collection/Getty Images)

Garfield was created by cartoonist Jim Davis, and he named his portly feline after his own grandfather, James Garfield Davis.

Garfield's character is said to be a composite of some of the cats Jim Davis grew up with.

The Location Of Garfield's House

(Picture Credit: FRED TANNEAU/AFP/Getty Images)

The Garfield cartoon strips have been successfully syndicated around the world.

But if you want to get specific, Garfield resides in the city of Muncie in Indiana, which has a population of just over 70,000 people. (The city's cat population is currently unknown.)

Garfield Or Gustav?

(Picture credit: TIMOTHY A. CLARY / AFP / Getty Images)

Garfield's face and name is known around the globe, but over in Sweden, he's officially called Gustav.

The countries of Norway and Finland also changed the feline's name to reflect their local customs.

Garfield Held A Guinness World Record

(Picture credit: China Photos / Stringer / Getty Images)

According to the official record books, Garfield claimed a Guinness World Record for Most High Fives Given By A Mascot In One Minute.

The total he achieved was a whopping 194 high fives in 2018.

He was unseated in 2019, however, by another feline. Apparently Garasuke, a cat mascot for a local baseball team in Japan, broke the record with 205 high fives. They must have some tired paws by now!

Garfield's Canine Connection

(Picture credit: Kevin Kane / Contributor / WireImage / Getty Images)

Garfield is a fan favorite with cat fanatics, but the franchise also co-stars a Beagle named Odie.

According to the lore of the comic strip, Odie was originally owned by Jon's roommate, Lyman, before Jon decided to adopt the canine.

Garfield's Online Legacy

(Picture credit: NBCU Photo Bank / NBC / Contributor / Getty Images)

The official Garfield website, www.garfield.com, hosts an archive of classic comic strips.

You can search by date to check out what sort of shenanigans Garfield was up to on your birthday!