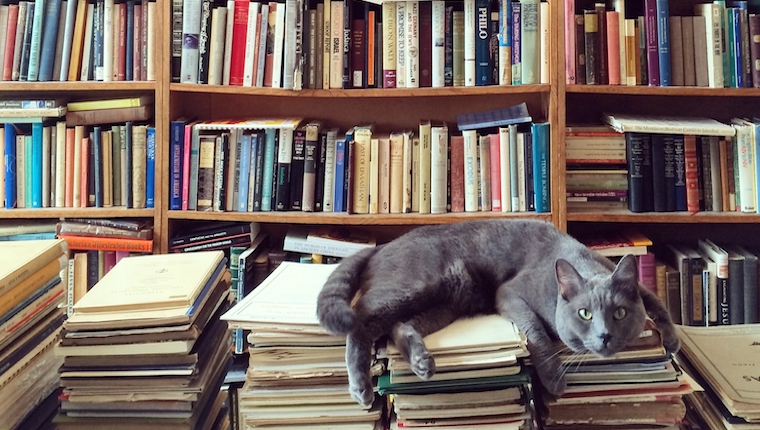 Do you consider yourself a fan of the arts? How about poetry? How about poetry where the verse is also themed around the feline form?
Well, you're in luck! The second Tuesday in January is Poetry At Work Day, and it falls on January 11th in 2022. It's a great day to share some poems with friends and coworkers. Of course, our favorite poems are centered around cats!
The best part is you can still share poems over Zoom and online chats. So even if the pandemic is keeping you out of the office, you can still celebrate!
In honor of Poetry At Work Day, here are four poems where cats take the starring role. Watch the videos with your work friends!
1. 'She Sights A Bird' By Emily Dickinson

Emily Dickinson's "She Sights A Bird — She Chuckles" is all about the way a cat reacts when she spots some prey.
"She sights a bird — she chuckles," begins the short poem, uncannily channeling the way a cat reacts when they see an idling bird. But unfortunately for the feline, the robin in questions manages to fly away before she can turn him into an afternoon snack.
2. 'The Owl And The Pussycat' By Edward Lear

Originally published way back in 1871, Edward Lear's "The Owl And The Pussycat" was written to entertain a friend's daughter.
Since then, the antics that go on in a "beautiful pea-green boat" have entertained children and adults across the world.
3. 'Macavity, The Mystery Cat' By T.S. Eliot

T.S. Eliot cared for many cats throughout his life and was fond of giving them lavish names like George Pushdragon and Pettipaws. The playwright also tapped into the feline form through the medium of poetry.
Most notable is "Macavity, The Mystery Cat," which originally appeared in the book Old Possum's Book of Practical Cats and wound up inspiring Andrew Lloyd-Webber to pen the musical Cats.
4. 'Ella Mason And Her Eleven Cats' By Sylvia Plath

Ella Mason lives in a "ramshackle house" that's overflowing with cats — eleven at her last count.
Due to the size of her clowder, Ella becomes known as "Cat Lady Mason" in this ode to those who are unabashed cat lovers.
Do you have a favorite cat-themed poem? Would your work friends like to hear some poems on Poetry At Work Day? Tell us about it in the comments below!