DogTime and CatTime are thrilled to support All About Animals, recipient of a DogTime Media donation as chosen by Petties winner Kate Benjamin.
How did your organization get started?
We began in October 2010 as a group of animal lovers that wanted to make a difference in Maricopa County. Our motto is "Compassion In Action."
What is your mission?
All About Animals Rescue is dedicated to saving companion animals whose lives are in jeopardy by providing rescue, foster, and adoption services.
How do most of your animals find their way to you?
Primarily, the local euthanasia lists.
What happens to the animals once they are in your care?
Animals are altered, vaccinated, tested, dewormed and given any other needed medical care. They are cared for in the homes of one of our many fosters. They attend adoption events on the weekend.
Tell us about a particularly compelling animal or inspiring rescue.
Meet Thomas. Found starving and wandering the streets, Thomas had no hope if he were turned into an open intake shelter. Luckily, All About Animals Rescue had a new foster in DeAnne Dennis Dowland! As long as Thomas did not have FeLV or FIV he would be able to begin recovery with DeAnne. Happily, Thomas tested negative for feline diseases and he was off to DeAnne's house for food and TLC! Two weeks later, Thomas is slowly recovering. But not entirely! He is not gaining weight and so more blood tests must be run. Your support of animals like Thomas ensures that we can continue to help the most unwanted.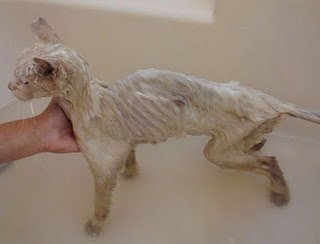 Inspired by the work of All About Animals? Consider volunteering or making a donation to their organization.