According to a piece in The Canadian Press, investigators in Vancouver are using forensics to determine how several cats died that are thought to have been killed by the same person.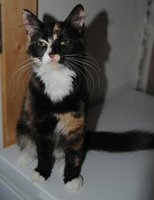 Located east of Vancouver, the city of Maple Ridge has been terrorized for almost a year by a person who has been killing cats and often times deliberately leaving the parts of the dismembered corpse for the owner to find.
To date, a total of 24 cats have been killed – nine of which were found in the last two weeks.
Last week, a cat's head was found by students at an elementary school during a lunch break. A witness claimed there were two men in the woods behind the facility, but a police search of the area yielded no arrests.
Maple Ridge residents are advised to keep an eye on their house cats, and keep them indoors.