Early last month, CatTime.com reported on Maloos, a two-year-old tabby cat that was sent from Iran to San Francisco. Once looking for a new home, Maloos has been adopted, and his new owner has a lot in common with the animal.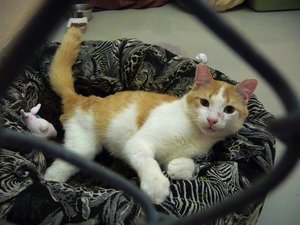 According to SFGate, Laila Aghaie, 46, of Napa, is the cat's new owner. Several families wanted to adopt the cat, and Aghaie was selected via lottery to adopt it. Like Maloos, Agahaie is also originally from Iran; she left the country after the 1979 revolution when she was a teenager.
"When I was a kid in Iran, that was just one of the hardest things for me," Aghaie told SFGate. "Iran has a very different attitude about pets. So many animals where I lived didn't have homes, were living very hard lives. Every cat I would try to feed, every dog I would befriend, something always happened to it."
Maloos was born with birth defects in both his hind legs and drags his rump; veterinarians in Tehran tried to fix one of his legs with surgery, but the limb became infected and had to be amputated.
With very limited resources available for the animal's care, the cat was sent to the United States.
Aghaie has three children. The cat will live mostly indoors and have a great deal of mobility – thanks to a wheelchair that has been specifically designed for a cat.
Congratulations, Maloos – welcome to America!