A playful cat is a happy cat—are we right? If you've got a new kitten, one of the best things you can do for them (after providing nourishing meals and a cozy cat bed, of course), is play with them regularly. Teaching your kitty the art of play with kitten toys is crucial to their development; not only will it nurture a positive attitude and playful personality, but it'll also keep them fit, build strong muscles, and keep their minds and hunting skills sharp.
There are endless kitten toys on the market to choose from, ranging from classic mouse toys to cat wands to catnip-infused toys, so it can be hard to know where to start. We always recommend having a variety of toys in your repertoire, so you can switch it up now and then and keep things fresh. This will help to keep your cat interested, while also honing different skills with the different toys. So, if you've got a new kitten at home (lucky you!), check out our guide to the best kitten toys to get those playful tendencies tuned up.
Top Pick BEGRIM Cat Laser Pointer
BEGRIM Cat Toy Pointer for Indoor, Cat Mouse Toys Wand Light Pet Interactive Toys to Keep Cat Busy, for Kitten Cat Dog Chase Play
Best Kitten Toys to Consider
New kitten mamas often ask the question "Do I need special toys for my kitten?". The answer is yes. Not only will adult cat toys be too large for their little paws, but they may also scare or intimidate your kitten—which, of course, is the last thing we want! So, read on for our quick tips on choosing the best kitten toys to nurture your feline's love for play:
Size
As we said above, size is super important. If a cat toy is too large, your kitten is likely to see it as an opponent rather than prey, which can make them defensive, confused, and sometimes even aggressive. So, it's important to pick smaller kitten toys for your baby cat, that they can easily grasp with their paws. Aim for smaller mice toys and balls no larger than a ping pong ball to use as a benchmark.
Variety
Variety is the spice of life, whether you're a human or a cat. It's best to have a few different kitten toys that you can whip out on a rotational basis. This will prevent your cat from getting bored of a particular toy, while also helping to encourage different play styles and catch techniques.
Shop-Bought/DIY
We love the brilliant range of kitten toys available on the market. However, if you're short on cash or simply feeling a little creative, you can always make your DIY kitten toys at home, too. Something as simple as a scrunched-up ball of paper can entertain your cat to no end, and games like throwing a ping pong ball across the room can really get them active and energized, too.
BEGRIM Cat Laser Pointer
We love a good laser pointer here at Cattime. This fun and engaging laser toy by BEGRIM is a fab starter toy for your kitten, helping to teach them how to hunt, chase, and pounce. The laser comes with 5 patterns that you can easily switch between (great for keeping things fresh!), plus a handy flashlight you can use around the house.
Super easy to use and mini in size, you can pop this one in your pocket and whip it out whenever your kitten fancies getting playful. Coming in at a bargain price, too, this laser pointer kitten toy won't break the bank.
Top Pick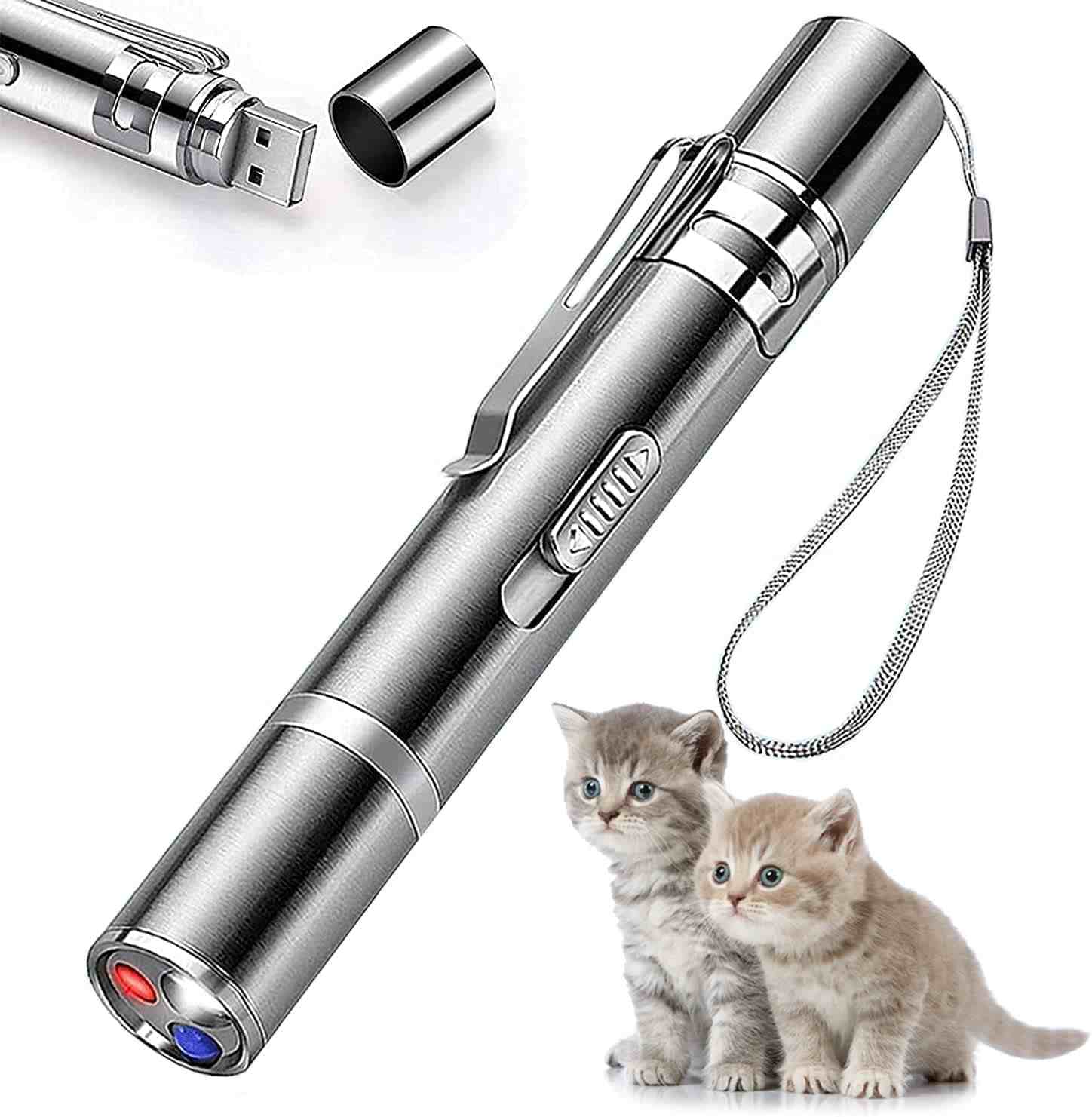 BEGRIM Cat Toy Pointer for Indoor, Cat Mouse Toys Wand Light Pet Interactive Toys to Keep Cat Busy, for Kitten Cat Dog Chase Play
$14.99
Pros:
5 patterns
Interactive toy
Mini and convenient
Great price tag
Cons:
Catnip Toys for Kittens
Soft, plush, and filled with tempting catnip to get your kitten excited about playtime, this set of 5 kitten toys is a great addition to your kitty's toy box. Made of cotton and filled with polish, kitten-safe natural materials, these toys are totally safe to leave out when you're not at home, too. Exceptionally well-made, the strong, durable stitching means you won't have to worry about your kitten tearing their toy open during overzealous play, either. Not to mention, we love the cutesie designs, from a darling panda to a green frog and 3 other lovely animals.
Runner Up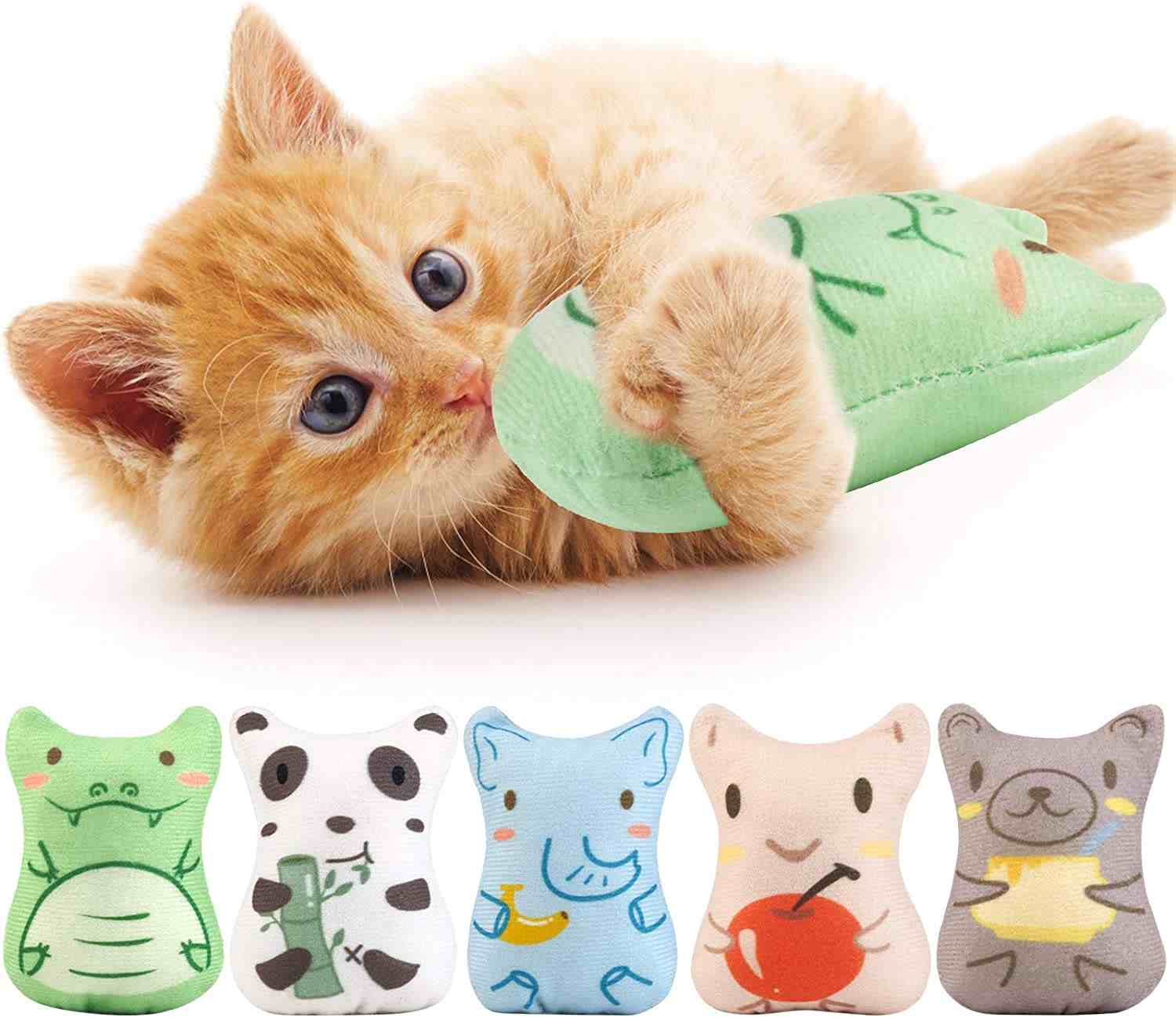 Dorakitten Catnip Toys for Indoor Cats - 5PCS Plush Cat Chew Toys Teething Interactive Catnip Filled Kitten Toy Soft Pet Toy (Animal Shapes)
$9.99
Pros:
5 animal designs
Made from kitten-safe cotton
Strong stitching to withstand rough biting and play
Good value
Catnip-filled
Cons:
May be too large for tiny kittens
Just For Cats Kitten Bell Balls
Combine engaging noises with a chase game with the help of these rattle bell balls. Great for launching across the living room for your kitty to chase, leaving them to play solo, or taking them out in the garden for some alfresco play, these rattle bells make a captivating addition to your kitten's growing toy repertoire.
Coming in a pack of 7, you get plenty of bang for your buck with these cat balls, while the assortment of bright colors make for a fun aesthetic, too.
Best Rattle Toys
Pros:
Jingling bells to engage your kitten
Pack of 7
Excellent price tag
Durable materials
Cons:
You may not receive the colors pictured
Made4Pets
Every kitten needs a spot to scratch their claws, and ideally that spot won't be your couch. Tempt them away from your plush furniture by offering up the Made4Pets scratching post, coming in a chic design and serving up heaps of entertainment for your kitten:
Featuring a sturdy base with moving balls to attract your kitten's attention, plus a tall sisal rope scratching post and hanging ball toy, your kitten will be able to keep themselves occupied for hours with this toy. Large enough to challenge them but not so large they won't be able to play with it properly, this kitten toy is sure to enrich your kitten's home life to no end.
Best Scratching Post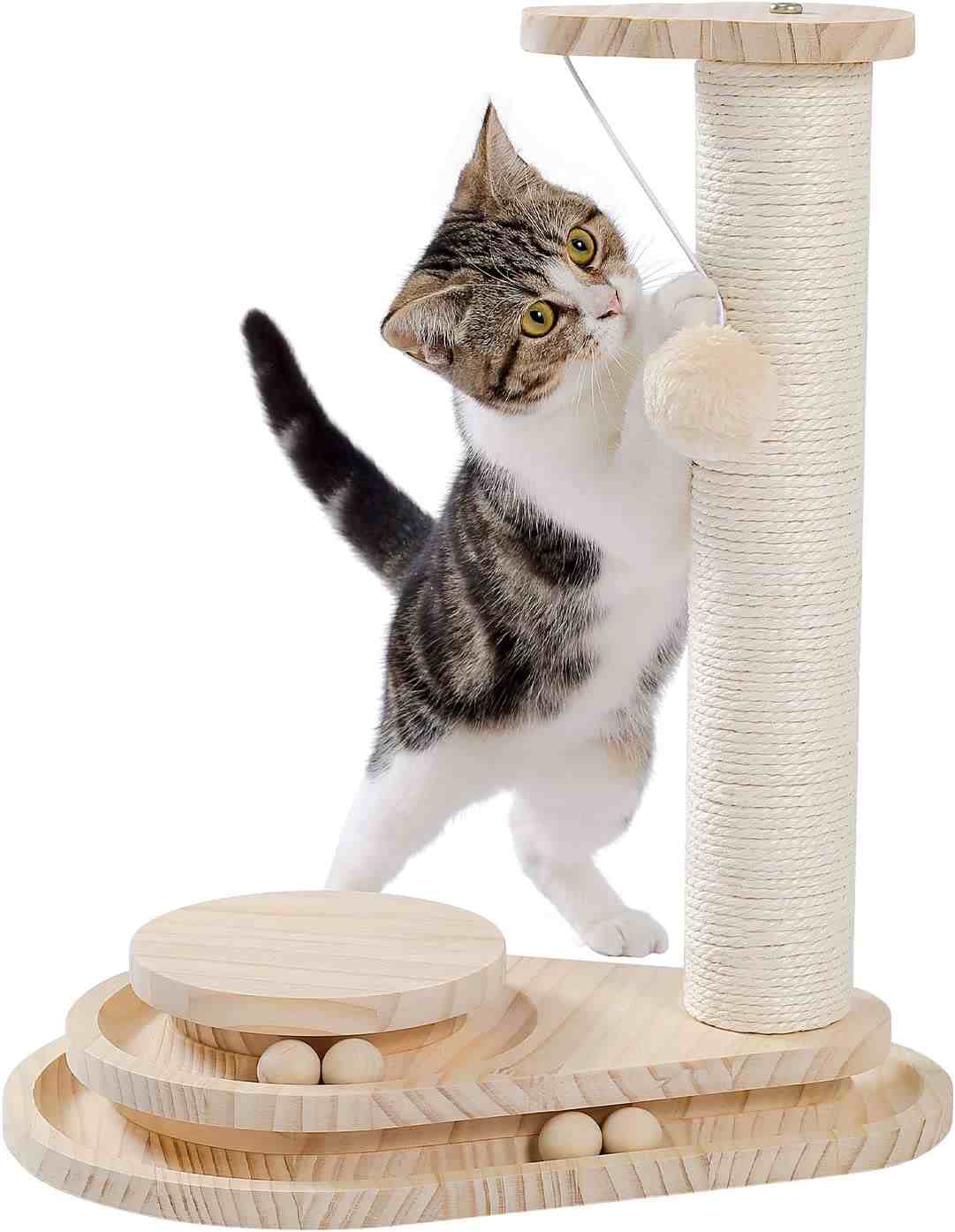 Made4Pets Cat Scratching Post Cat Scratcher Toy Wooden Two-Layer Cat Turntable with Interactive Balls and Dangling Ball
$29.99
Pros:
Scratching post and entertainment center all-in-one
Chic, understated design
Great price tag
Cons:
Cat Crinkle Balls
These straight-up simple crinkle toys provide hours of entertainment for your feline, no matter what age they are. That said, they certainly lend themselves to kittens due to their smaller size; your kitten will easily be able to grasp, catch, and pounce on these crinkle toys, giving them a glowy feeling of achievement (which is super important), every time they make a catch.
The crinkle sound makes a satisfying noise that your cat will love, and the 10-pack is sure to last and last. Pick up these crinkle kitten toys for a teeny-tiny price tag, and start playing as soon as the mailman comes.
Also Consider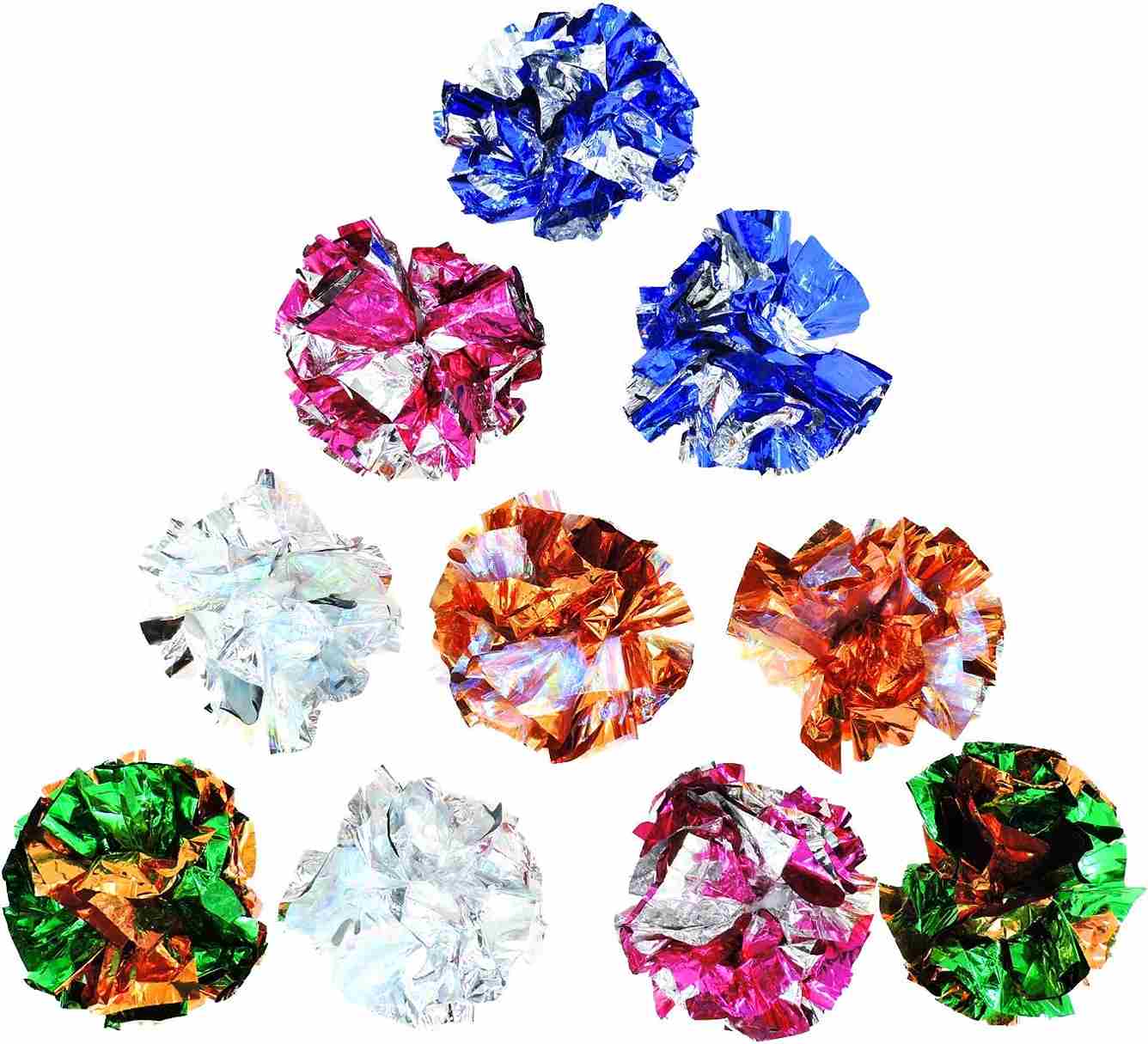 Andiker Cat Crinkle Balls, 2.36 Inches Colorful Cat Balls Chew and Chase Cat Mylar Crinkle Balls Lightweight Cat Toys for Indoor Cats to Keep Fit and Active (10 pcs) (10pc)
$5.99
Pros:
10-pack is excellent value
Makes captivating crinkle noise
Small size is great for kittens
Cons:
Sparkly strands can make a bit of a mess
Frequently Asked Questions
What are the best toys for a kitten?
Small toys that your kitten can easily grasp are the best way to go. Consider picking up some small mouse toys or even just grab a ping pong ball for your kitten to chase; this will have them running about and stretching their little legs while honing their hunting and catching skills at the same time.
What do kittens like to play with the most?
Kittens, like their fully-grown adult cat counterparts, love teaser toys, wands, mice toys, and tunnels. In fact, kittens will play with pretty much anything! Just make sure your chosen toys are safe and not frustrating for your cat (i.e., let them catch that laser pointer every now and then!).
How do I keep my indoor kitten entertained?
It's important to have a solid bounty of good kitten toys to keep your indoor kitten entertained at home. They'll be missing out on their natural "entertainment" of hunting wildlife, so it's crucial that you emulate some chase-and-catch games at home so they don't miss out on building those key skills. It's best to opt for a selection of interactive toys that you can use with them to build your bond, as well as some independent kicker or mouse toys that they can chase and play with on their own. After all, even the most committed cat owners can't be at home all the time.
WHY TRUST US
Since 2008, Cattime has served as a leading resource for millions of cat owners and pet lovers alike. Our goal is to give every cat and pet a happy, healthy home by providing owners with all information they need to be the best pet parents possible. Our experts share their insights and recommendations to make caring for your beloved pet a breeze.