A black Lab named Evelyn loves visitors almost as much as she loves a rousing round of fetch. At the first sound of a car pulling up the long road to the ranch where she lives, she finds her ball and waits for a willing pitcher to come along to throw it for her. Typical dog story – except that Evelyn is blind.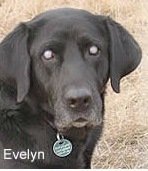 Evelyn is one of about 80 animals living at The Rolling Dog Ranch Animal Sanctuary in Ovando, Montana, a sanctuary for disabled horses, dogs, and cats founded by Alayne Marker and Steve Smith.
"The big misconception out there is that a blind horse or a deaf dog can't have a good quality of life," says Marker. "But the animals here are among the happiest you could ever meet."
She has a point. After a few minutes at Rolling Dog Ranch, you forget that many of the animals even have a disability – including the ones with cerebellar hypoplasia (a disorder that causes a wobbly, unsteady gait).
Take sisters Noodle and Soba, two Collie mixes. As their names imply, they seem to flop rather than walk as they make their way around the ranch. But they play, romp, and rough-house with as much enthusiasm and confidence as any "normal" pup.
No time off
Marker, age 52, and Smith, age 49, gave up city life in Seattle and professional careers with Boeing seven years ago to create a place specifically for disabled animals. Easy it is not. As with any sanctuary, work doesn't stop at six p.m. each evening. Or at midnight. Or on Christmas day.
Caring for the animals is a round-the-clock responsibility. In fact, the couple has not taken a vacation together since they started Rolling Dog Ranch. "One of us will get called away for a day or two, but time off?" Smith says. "It's not an option."
Marker adds that though the time commitment is difficult, the hardest part of animal welfare is seeing first-hand the level of cruelty that humans are capable of inflicting. While most of the animals' disabilities are congenital or due to illness, a number are there because of what people did to them.
"But," Marker adds, "we also see the other side: the people who are out there every day, rescuing these animals and making sure they end up in a safe place."
Taking pleasure in life
And the best part? "Changing the perception out there that disabled animals can't be happy," Marker says. "People tend to transfer onto an animal what they think it must mean for that animal to live with a disability. All you need to do is look at the animals here to know otherwise."
She and Smith take as much pleasure in the ranch residents as Evelyn does in fetch. "Typically, these animals would be the first to be euthanized – but they really do get incredible enjoyment out of life. It's very inspiring."
Marker declares it so passionately, you can feel the warmth in her voice. Surrounded by so many blind and deaf animals, that feeling means everything.
-November 26, 2007