Father's Day is coming up on June 19th this year, and we salute all the great cat dads out there. They do so much to take care of our feline friends!
Our pals at Best Friends Animal Society spotlighted one great cat dad, Alex, who adopted a very special kitty, and we wanted to share the story.
But this isn't any ordinary Father's Day adoption "tail." Alex didn't adopt just any cat. He adopted a feline who was struggling to find a forever home because she had chronic kidney disease. But oddly enough, that's what made her the perfect choice for Alex.
Bonded By A Shared Struggle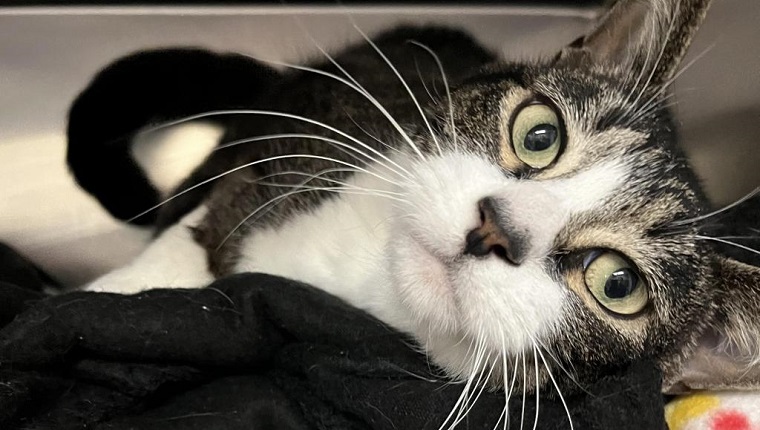 When Alex came to Best Friends Mission Hills Lifesaving Center, he was looking for a new feline family member. It didn't take long for him to form a bond with a cat named Chick.
Following their instant connection, Alex wanted to know more about Chick. He was told that this kitty was having a hard time finding a forever home. Sadly, her chronic kidney disease meant potential adopters were passing her by.
But when Alex was asked if he was still interested in Chick, he already knew that he'd found the perfect cat for him. He said, "I know this might sound a little crazy, but I have chronic kidney disease."
Sharing the same health struggle only strengthened the bond that the pair felt, and Alex adopted Chick on the spot.
Chick, whose name is now Gabby, found her cat dad and her forever home, and they've been inseparable since!
Give A Cat A Chance This Father's Day
Many shelters across the country are suffering from overcrowding, staffing shortages, and lower adoption rates. Father's Day might be the perfect time to visit your local shelter and pick up a new family member.
If you decide to become a cat parent, you'll not only be helping a cat in need, but you'll also help the next cat that comes into the shelter after them.
However, not everyone is ready to adopt. If that's the case for you, consider fostering a cat instead. Best Friends Animal Society and many other shelters will cover food, supplies, support, and medical care.
When you foster, you give a cat a chance to experience life in a home with a family away from the noise of the shelter. You'll also be able to tell potential adopters more about their personality, which can help them get adopted!
So in honor of Father's Day, consider adopting or becoming a foster cat parent. You may even find a best friend for life!
And make sure to keep up with Best Friends Animal Society and all the amazing work they do!
Have you ever shared an instant bond with a cat like Alex did? Would you consider adopting a kitty with special needs? Let us know in the comments below!