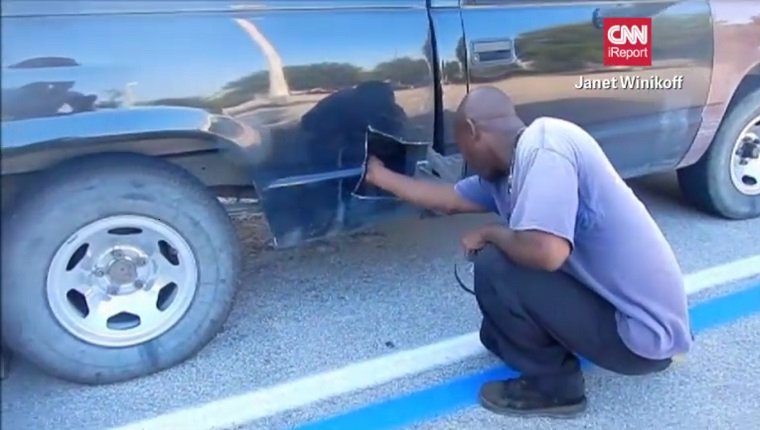 You know your car is in good shape when you start it up and hear the engine purr. But when Errand Frazier heard purring coming from his truck before he even got inside of it, he knew something was wrong. He tried to find the source of the sound, but he couldn't find an animal anywhere. So he left a can of cat food out by one of the tires and set up a camera to catch the purring critter on video.
When Frazier came back to his truck the next morning, the food was gone, but he couldn't see anything on the video. He couldn't hear the purring, so he decided to go on a fishing trip. When he arrived at the canal, the purring started again. That's when Frazier did something that most people probably wouldn't do. He grabbed some sheet metal cutters, carved a hole in his truck bed, and looked inside. He was surprised to find a kitten peeking out at him.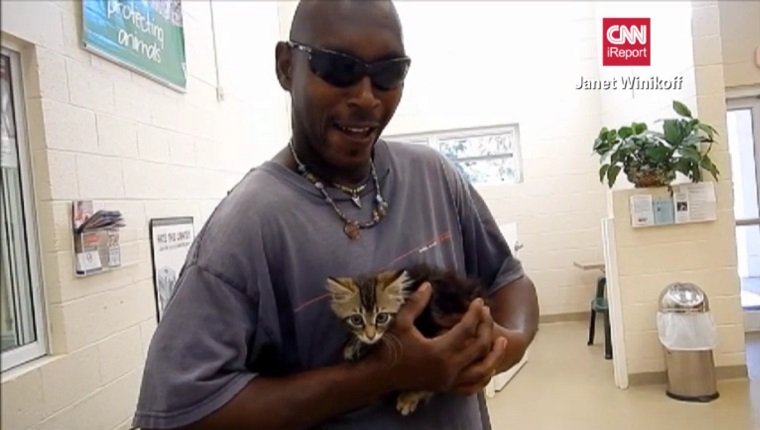 The kitten was tucked into the frame where he couldn't get to it, so he called the humane society and drove very carefully to their shelter. There, several staff members worked together to get the cat free. The 8-week-old kitten got to say thank you to Frazier before being adopted to a forever home by a family. Several people donated money to repair Frazier's truck, and any extra donated money went to an emergency fund for animals stuck in similar situations. If a kitten is going to get stuck in a truck, it's best to get stuck in a truck of someone who will go to extraordinary lengths to make sure that kitten is safe and finds a home.
Would you tear apart your truck to save a kitten? Do you think Frazier is a hero? Let us know in the comments below!
Related Articles:
Firefighters Save Cat Stuck Behind Bricks Of Chimney
Officers Use Taser And Bulletproof Shield To Rescue Cat From A Tree
Save