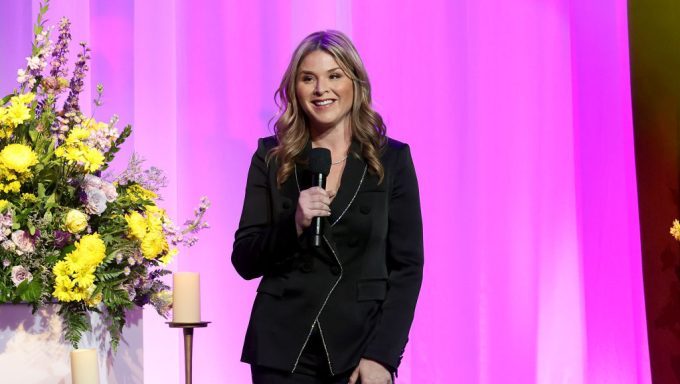 There's a new feline in residence at Jenna Bush Hager's household – and she has the cutest name. Last month, the 41-year-old "Today With Hoda & Jenna" co-host made the announcement in an Instagram video that her family adopted a kitten around Christmas.
Jenna Bush Hager Adopts Kitten
The Bush Hager family's new kitten has a name worthy of a celebrity cat.
"Instagram, meet Hollywood! My eyes are red from cat allergies, but I love her," the daughter and granddaughter of two former presidents said in the video.
"Do you see why we call her Hollywood?" Bush Hager asked her 1.3 million followers while showing off the fluffy gray fur baby. "She's beautiful."
 

View this post on Instagram

 

"But we call her 'Holly' for short. Holly, middle name 'Wood,' last name 'Hager,'" the new cat mom explained.
In the vid, Bush Hager shared a funny story about the kitty, who has already gotten into plenty of trouble. Apparently, Hollywood got "covered in spaghetti" after her three kids (whom she shares with Henry Hager) dropped their dinner on their new pet.
"So we think she's Italian," Hager joked.
More Cute Kitten Tales
This isn't the first time Hager has shared silly stories about Hollywood with her fan base. On "Today With Hoda & Jenna" in early January, the TV personality recounted how Hollywood – who was a gift to Bush Hager's daughter, Mila – gave the cat mom a run for her money by disappearing in the house.
"Kittens are quite little, and last night, before bed, it was around 8 o'clock; Holly would not be found anywhere," Bush Hager said. "Holly was missing. All night long, I was up, 'Here kitty kitty kitty.' Every hour on the hour."
"She was locked all night!" Bush Hager exclaimed. "She was locked! But I fed her; I put her in her little box; I put her on Mila. She's so relieved, and I am so relieved."
We hope Hollywood is settling into her new surroundings – and keeping her famous family on their toes!