Attention Cleveland, Ohio, residents: On Friday, October 5, and Saturday October 6, six shelters will allow people to adopt lack or mostly-black cats free of charge. All pets come vaccinated and spayed or neutered.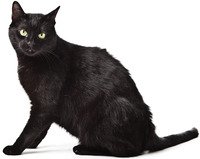 Dubbed "Everything Goes with Black," the adoption program will be at the following locations (please check each link for more information and hours of operation):
Cleveland Animal Protective League
Geauga Humane Society (Russell Township)
Humane Society of Greater Akron (Twinsburg)
Lake Humane Society (Mentor)
Medina Society for the Prevention of Cruelty to Animals
Portage Animal Protective League (Ravenna)
As part of the program, a second kitten of any color can be adopted for $20.
According to the Best Friends Animal Society, black cats are frequently overlooked at adoption. Although there's no exact reason why these animals are passed over, suggestions include they aren't as photogenic as white or other felines of another color; and superstition, such as the expression about how black cats bring bad luck. Black cats are also the pet of choice for witches who populate children's picture books and Halloween decorations.
Nonsense, says Best Friends. "The color of a pet's fur has no relationship to their ability to provide unconditional love, companionship and devotion."