Trimming your cat's nails is an important part of their health and grooming routine, along with giving them a good brush and nutritious cat food. With the best cat nail clippers, you can help prevent discomfort for your cat, as well as keep your furniture snag-free. Not only that, but trimming their nails also helps to minimize the chances of your pet scratching or hurting someone accidentally.
With these amazing clippers on the market, you can safely trim your cat's nails in no time. Quicker and cheaper than taking them to the vet every time they need a trim, our selection of nail clippers saves time and money.
Top Pick Cat Nail Clippers
Fixturedisplays® LARGE Pet Dog Cat Nail Toe Claw Clippers Scissors Shears Trimmer Cutter Grooming Tool 12220
Best Cat Nail Clippers to Consider
Finding the right cat nail clipper is essential when it comes to keeping your cat's nails trimmed. Low-quality, dull blades are seductively easy on the wallet, but they put you and your cat at risk for injury. For this reason, you should always opt for a strong, sharp blade that is capable of cutting through thick nails with ease.
Additionally, look for a clipper with a comfortable handle and an ergonomic design that allows you to maintain a secure grip while trimming your cat's nails.
Next, it's always a good idea to consult your vet; they're well-placed to steer you in the right direction when it comes to safe and effective cat nail clippers.
Last of all, cost is a consideration. You can spend as little or as much as you like on cat nail clippers, with higher-quality options coming with a higher price tag. That said, you can pick up a pretty stellar set for around $10 to $15 that should see you through for a few years.
Well-trimmed nails paired with a top-quality cat tree will go along way in saving your furniture, as well as keeping your kitty groomed to perfection.
Cat Nail Clippers
For grooming your cat with the utmost ease and care, FixtureDisplays Cat Nail Clippers are your best choice. The ergonomically-designed, non-slip handles make them easy to grip and comfortable to use, while the sharp blades—crafted from high-quality metal—ensure a precise, long-lasting cut. Get the perfect manicure for your feline friends with FixtureDisplays Cat Nail Clippers.
Top Pick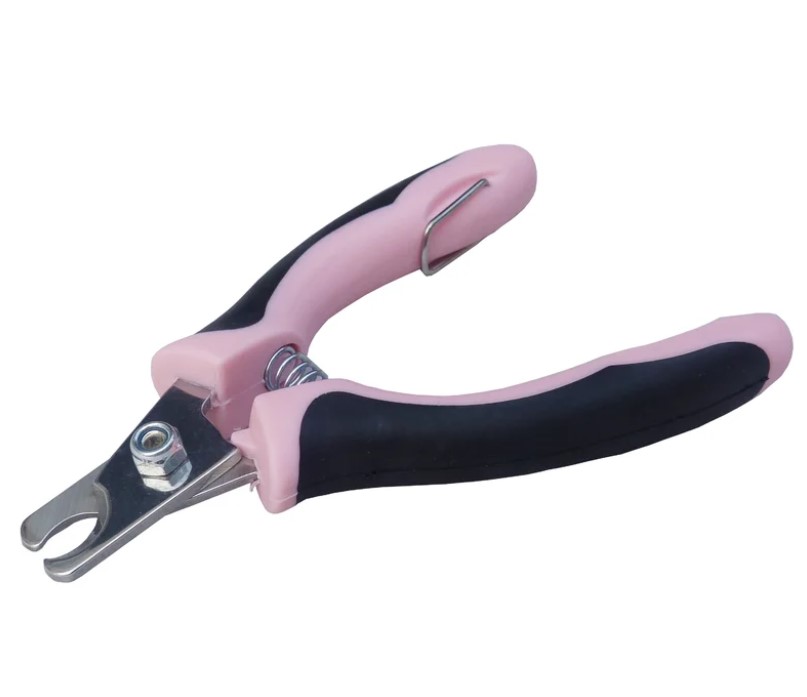 Fixturedisplays® LARGE Pet Dog Cat Nail Toe Claw Clippers Scissors Shears Trimmer Cutter Grooming Tool 12220
$16.12
Pros:
Ergonomically-designed
Sharp blades
Non-slip handles
Cons: 
INSTACHEW Pet's Nail Clippers
Trim your furry friend's nails like a pro with these cat nail clippers. Featuring non-slip handles, a lightweight feel, and high-quality metal blades, these clippers make trimming your pet's nails quick and easy. Durable and impact-resistant plastic ensures that these clippers will last for years to come, so you won't find yourself frequently splashing out for new ones. We also like the LED light, helping you see what you're doing as you trim.
We like that these are suitable for dogs, too—so, if you've got something of a menagerie at home, these nail clippers are an excellent choice.
Runner Up
Pros:
Long-lasting and durable
Suitable for dogs and cats
Affordable price tag
Sharp blades
Safety guard
Cons:
WePet Cat Nail Clippers
Get your feline's claws looking neat and tidy with WePet Cat Nail Clippers. These nifty little clippers come with heaps of small but mighty features to ensure you're clipping those talons safely and effectively:
You'll benefit from a 50-degree downward-bent tip giving you a good view of where you're trimming, round edges to fit your cat's natural nails shape better, and sharp blades for stress-free and quick cuts. Plus, the premium blades stay sharp for years to come, so you'll be covered for a long time to come. Oh, and have you seen the price?
Best Budget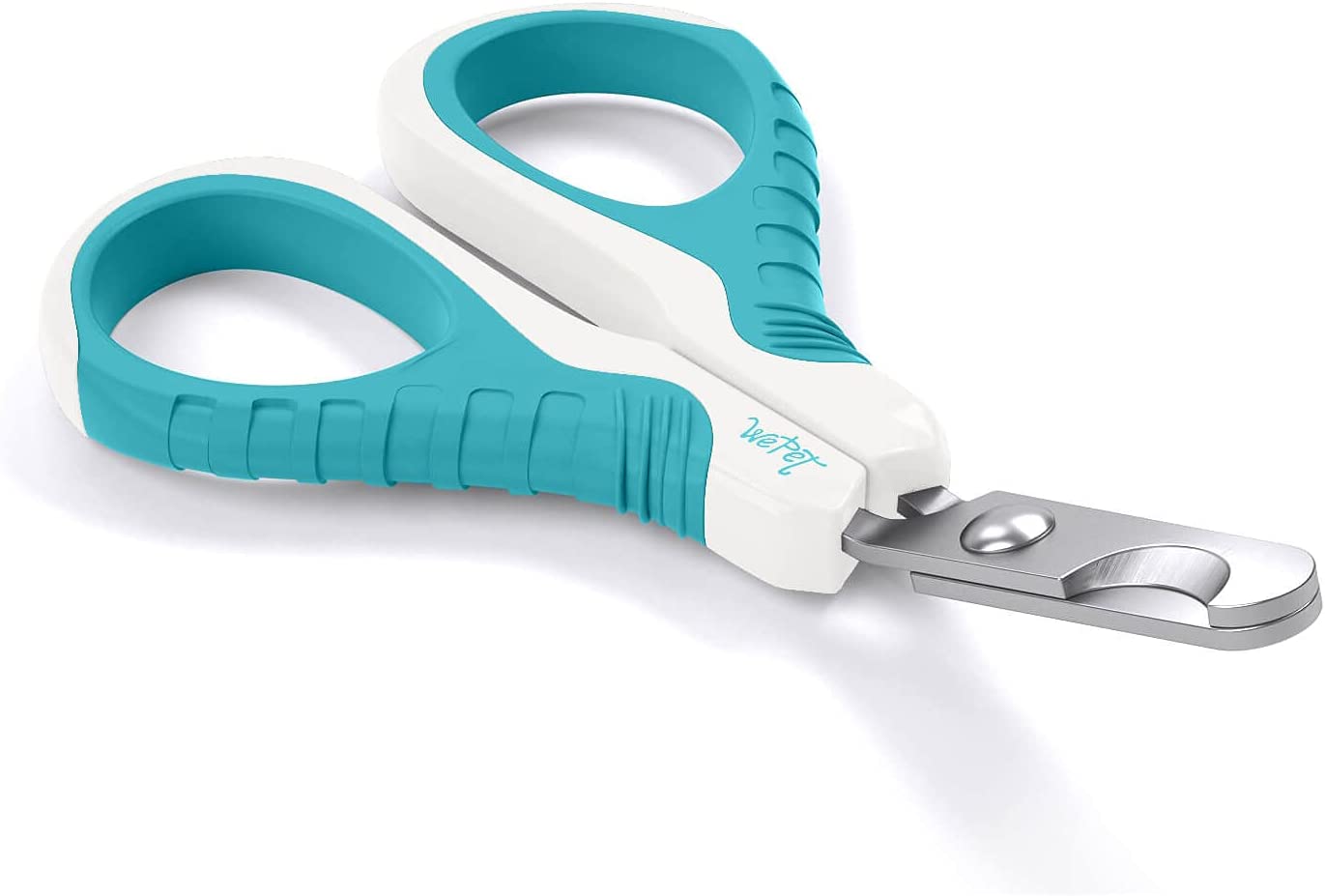 WePet Pet Nail Clippers, Professional Claw Trimmer, Scissor for Cats, Dogs, Puppies, Kittens, Hamsters, Rabbits and Small Animals, Sharp, Safe
$12.99
Pros:
Super cheap price tag
50-degree angle to allow for better view
Sharp and efficient
Great for first-timers
Cons:
Not the best for large hands
Stainless Steel Cat Nail Clippers
Neither you nor your cat wants a stressful experience when clipping day comes around. So, snap up these easy-to-use cat nail clippers to make that necessary job a seamless one:
Featuring thick, stainless steel blades, these clippers are both sharp and super comfortable to use, even if you've got a few kitties to clip. Take it from us: comfort is key when it comes to nail clipping—for both you and your felines.
Great if you've got a number of pets at home, the Pet Republique Clippers are ideal for all sorts of small breeds, from cats to birds to guinea pigs, giving you professional results every time. So, get your paws on these top-quality, professional cat nail clippers now and give your pet the grooming they deserve.
Most Comfortable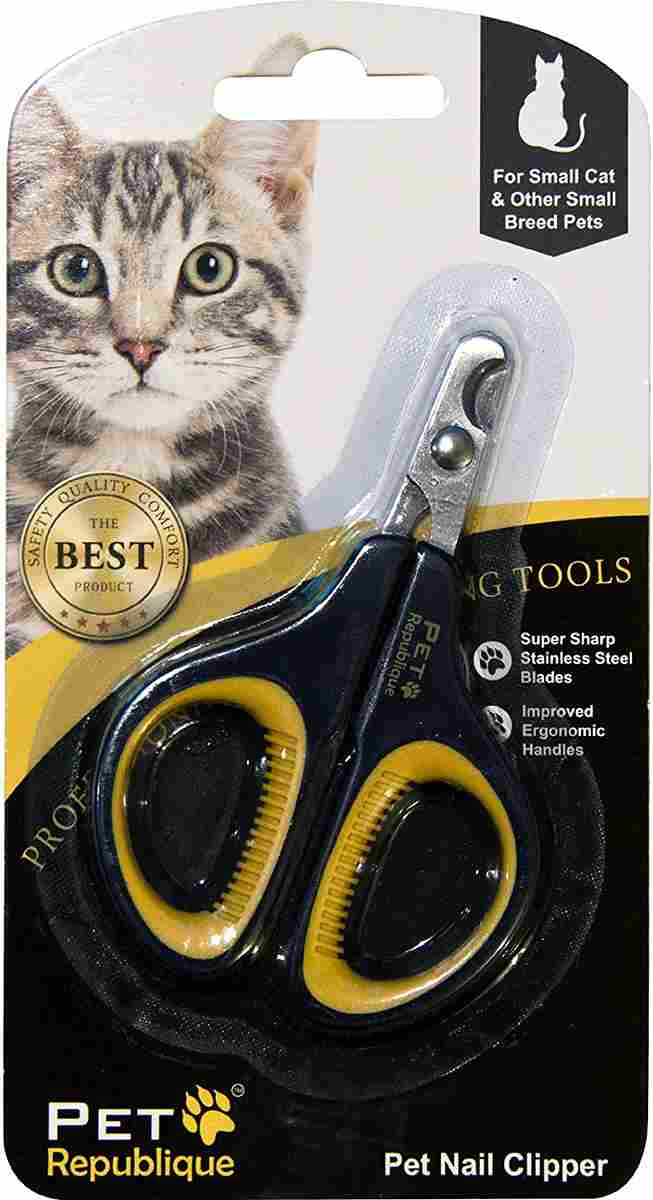 Cat Nail Clipper by Pet Republique – Professional Stainless-Steel Claw Clipper Trimmer for Cats, Kittens, Hamster, Rabbits, Birds, & Small Breed Animals
$11.99
Pros:
Comfortable for use
Ideal for all sorts of small pets
Stainless steel blades
Pro-level
Cons:
Can get in the way of visibility, so be careful when trimming
Cat Nail Clippers with LED Light
Get a clean, precise cut every time with LED Cat Nail Clippers, featuring (you guessed it) a built-in LED light to give you a clear-as-day view of your cat's talons. Thanks to the added illumination, you'll be able to see where your cat's bloodline begins, thus where to stop clipping to prevent pain or discomfort.
The high-grade, sharp, and widened cutting blades are perfect for all sizes of dogs and cats, making these a great choice for multi-pet households. Plus, the nail storage box helps keeps nails organized for easy collection after the trim. Yep, these ones pretty much have it all.
Best with Light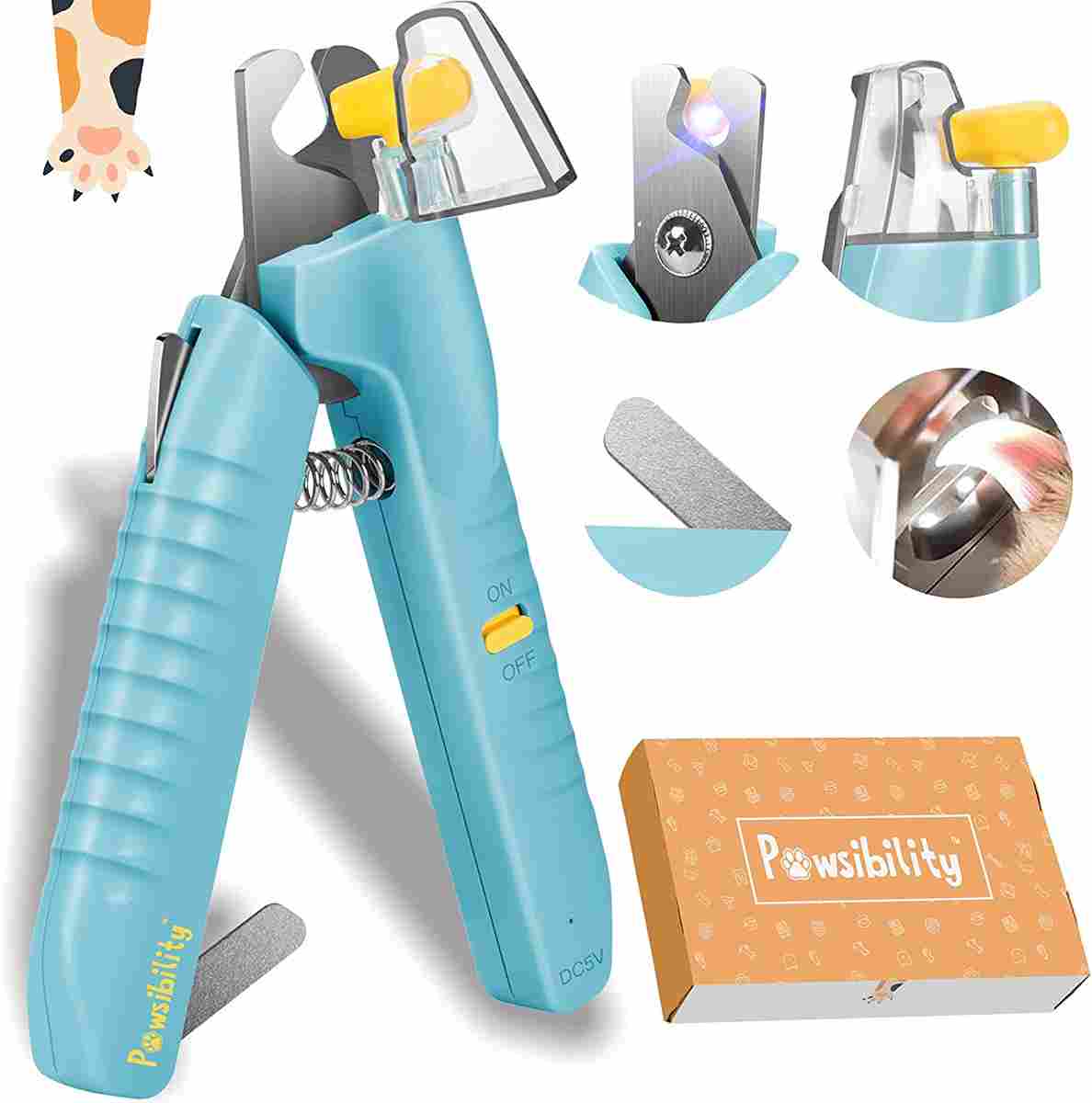 Pawsibility - Reinvented Pet Nail Clippers for Your Pal - Ultra Bright LED Light for Bloodline | Razor Sharp and Durable Blade | Vets Recommended Trimming Tool for Dogs and Cats
$21.99
Pros:
Built-in LED to illuminate nails
Super-sharp
Storage box included
Widened blades for a better trim
Cons:
Frequently Asked Questions
How long does cat nail clipping last?
Cats need their nails to be trimmed regularly in order to keep them healthy and prevent them from scratching furniture or people. On average, cats require nail cutting about every two to three weeks, as long as they are not declawed (which we do not recommend). Mature cats usually need their nails clipped more frequently than kittens since their nails tend to grow faster and become more brittle over time.
How important is it to clip cat nails?
It's important to clip your cat's nails regularly in order to keep your cat's paws in tip-top condition; it's as important as keeping their teeth clean and their coats healthy (check out our guide to the best cat shampoo if you don't know where to start!). Not only does a quick trim help keep your cat from scratching you or other family members, but it can also help save the furniture in your home—long nails can cause havoc on that brand-new couch.
Do you need special clippers for cat nails?
In short, yes. Firstly, your chosen cat nail clippers must be sharp enough to cut through the nail quickly and cleanly, with a good view of the nails and bloodline so you can avoid cutting too deep. They must also be comfortable to use, as well as small enough to use on those little paws. You can pick up nail clippers designed specifically for cats—and our guide has plenty of options for all budgets.
WHY TRUST US
Since 2008, Cattime has served as a leading resource for millions of cat owners and pet lovers alike. Our goal is to give every cat and pet a happy, healthy home by providing owners with all information they need to be the best pet parents possible. Our experts share their insights and recommendations to make caring for your beloved pet a breeze.